Breaking into Broadcast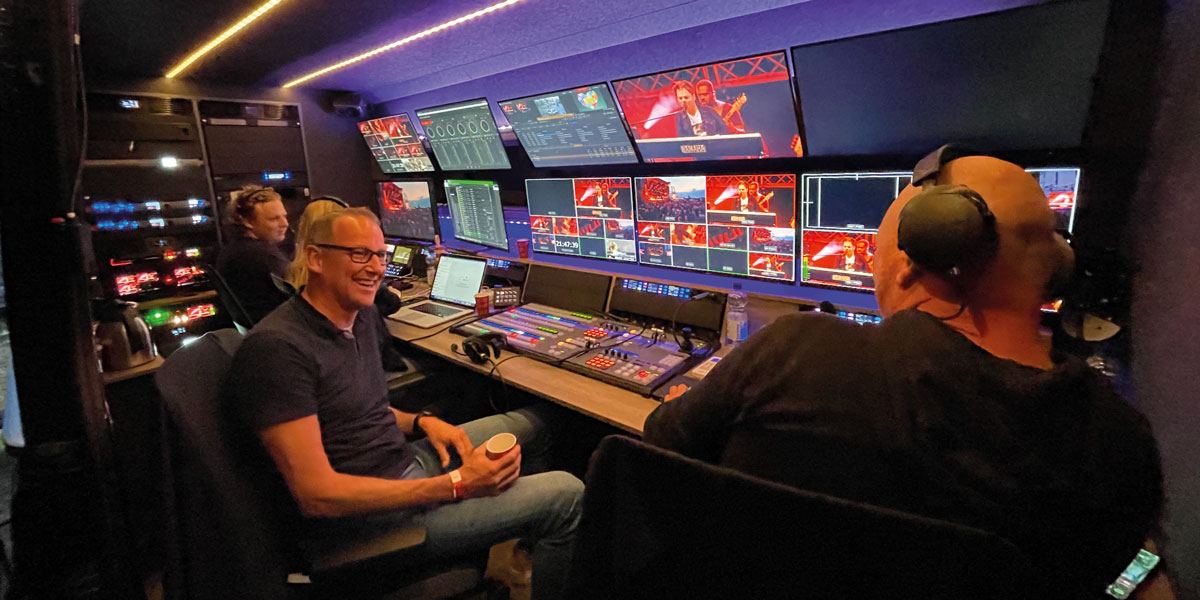 Posted on Sep 9, 2023 by FEED Staff
Thoroughly established among videographers, Atomos is increasing its presence in the broadcast sphere after recently kitting out Livestream Facilities' OB van
Sponsored editorial
Atomos' motto is 'helping video professionals', with cinematographers and other videographers constituting its central client base. But due to the accelerated incline of live streaming, the company has been increasing its reach to those within the broadcast and streaming stratospheres.
Livestream Facilities is a prime example. Based in the Netherlands, the company specialises in live event production and streaming, and is highly active in the corporate and entertainment sectors. "We do festivals, sports, LED-screen projections, exhibitions and town halls… but above all online television," introduces Rodney de Graaff, project manager at Livestream Facilities.
Ready-made OB
Livestream Facilities has to tackle a wide variety of projects, and so versatility is a must. Its outside broadcasting (OB) van has a mobile, preconfigured studio complete with the Atomos Shogun Studio 2. This rack-mounted, eight-channel monitor-recorder-switcher combines Atomos' multichannel recording capabilities with two HDR monitors.
"Our productions mainly take place at the customer's location or another high-profile place," explains de Graaff. "Since we have our OB van, it is wonderful to provide our crew with a well-known home base that is the same everywhere."
He continues: "It's much nicer to sit in a ready-made OB van than to build a technical set-up in the middle of a zoo, on a farm, next to a football field or even a Boeing 747 – all of which we've done before." Plus, instead of taking hours, the OB van reduces installation time to a minimum. "It's up and running within ten minutes."
Outdoor adventures
An OB van is not immediately where you'd expect to find a tool from Atomos' diverse product portfolio, but as de Graaff notes: "There has been a shift from traditional broadcast manufacturers to newcomers who can do it just as well."
Livestream Facilities streamed the Loveland Festival in Amsterdam: "An event with six stages, which we operated from a central location on the site where we had built six MCRs (master control rooms)," says de Graaff. "One of these MCRs is the OB van, fitted with the Shogun Studio 2, where all our fibres, switchers and encoders are running.
"We record and stream everything centrally," he adds. "With the Atomos Shogun Studio 2, we can host all feeds (eight channels) on one recorder. With a 2TB disk per drive, we can record the whole day."
Livestream Facilities also employs the Atomos Shogun as an on-camera monitor. "In this way, camera operators can switch between the program signal and their own camera signal – or even both signals in a split screen," suggests de Graaff. The company doesn't currently use the Shogun as a recorder, but as he continues: "in any case, the possibility is there!"
Known quantity
For Livestream Facilities, the decision to use Atomos was a no-brainer. This shift towards live has led to networks and operators looking to fresh faces and industry trailblazers like Atomos for equipment that ensures secure live delivery – a vendor whose tools they trust.
"Atomos is very accessible in pricing," states de Graaff. "Other brands make similar products, but I don't see why I should pay so much more for something equally easy to use and understand, just as high-quality and with quick customer support."
De Graaff also cites Atomos' popularity among camera operators as a green flag. "The good thing is that many other camera operators use Atomos, so almost everyone is familiar with the products." 
This allows for a reduced learning curve, as well as reliability and a shared confidence-in-ability among industry professionals and operators alike.
With assistance from Atomos, Livestream Facilities can "bring together a substantive, creative and technical concept for each and every customer," de Graaff concludes. 
Whether in the country or city, inside or outdoors, at a large-scale or intimate event, an Atomos-fitted OB van allows the Livestream team to record an entire day's worth of content with a single unit. 
Originally published in the Autumn 2023 issue of FEED.