The power to adapt and thrive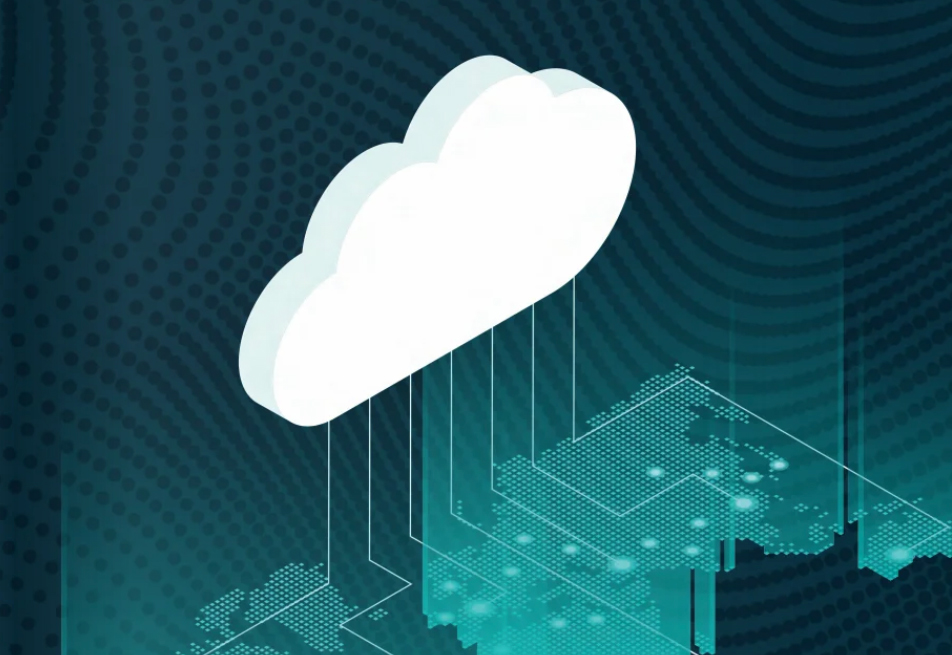 Posted on Mar 24, 2022 by FEED Staff
Sponsored editorial
Grass Valley is ensuring customers can respond quickly to the media industry's constantly changing needs
In media and entertainment technology circles, the ability to deliver versatile, cloud-based live production from a single platform has become something of a holy grail. With social media and OTT services as critical as linear TV, there is an onus on technology providers to accommodate complex playout and distribution requirements that are likely to change more regularly. The challenge this presents to the vendor is neatly summarised by Neil Maycock, chief marketing officer at Grass Valley.
"We have a strategy designed to help customers chart a course through digital disruption the industry is experiencing," he says. "The result is our media ecosystem, GV Media Universe (GVMU), bringing together technology, partnerships and business innovation." As underlined by its new corporate identity, with the tagline 'We Love Live,' Grass Valley has a strong focus on transforming the creation and delivery of premium live content. Its vision is encapsulated in GVMU, helping media companies address business problems arising from traditional operational models, including ever growing production and distribution complexity and rising costs. This is the end result of decades of creating broadcast hardware, then software, then being able to expertly combine hardware, software and services to create industry-best workflows.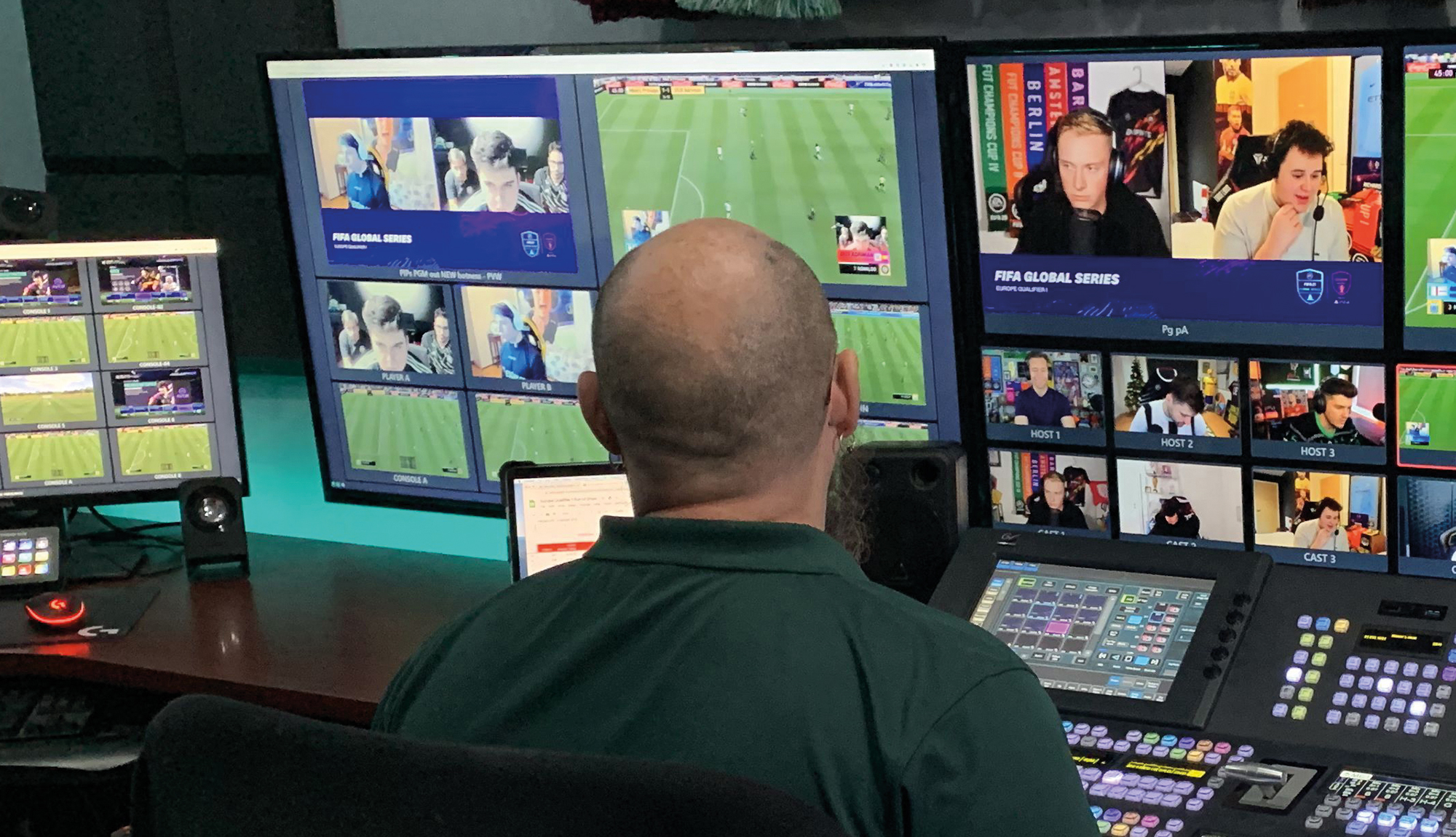 The GVMU is a digital ecosystem that allows media companies to use on-premise and cloud technologies to build live production environments that suit their needs today, while adapting to future demands. The core of GVMU is GV Agile Media Processing Platform (AMPP). Developed for the entire spectrum of live production, GV AMPP is a cloud native platform, taking full advantage of what the cloud offers, while being able to integrate any hardware solutions in the workflow. Its applications – encompassing the full supply chain, from capture and encoding to distribution – have been designed from the ground up, to run in a public cloud environment.
Consequently, says Maycock: "They allow for accessibility and scalability, meaning developers can continue to deliver new services more quickly and easily."
A strategy designed to help customers chart a course through digital disruption
Grass Valley is actively developing a surrounding ecosystem of qualified partners, focused on enabling media companies to leverage the cloud and on-premise technology. Dubbed the GV Media Universe Alliance, this group continues to welcome new members,with Net Insight and Flowics among the most recent additions.
Democratisation of video
Maycock is certain that it's already helping media businesses adapt to an industry that shifts rapidly – and on multiple fronts.
"There are so many different forces and influences on the content creation side. At one end of the field, you have the democratisation of video that includes content being pushed out to Instagram and YouTube. At the other, the OTT giants promoting high-end production values with
UHD, HDR and so on."
Increasingly, though, enterprises need to deliver content to traditional linear services, OTT and social media with equal facility. As Maycock remarks, "OTT is now part of almost every conversation we have with a customer. Organisations like the BBC, which has traditional channels as well as the iPlayer, or Discovery with its own channels and Discovery+, so there are many bases to be covered."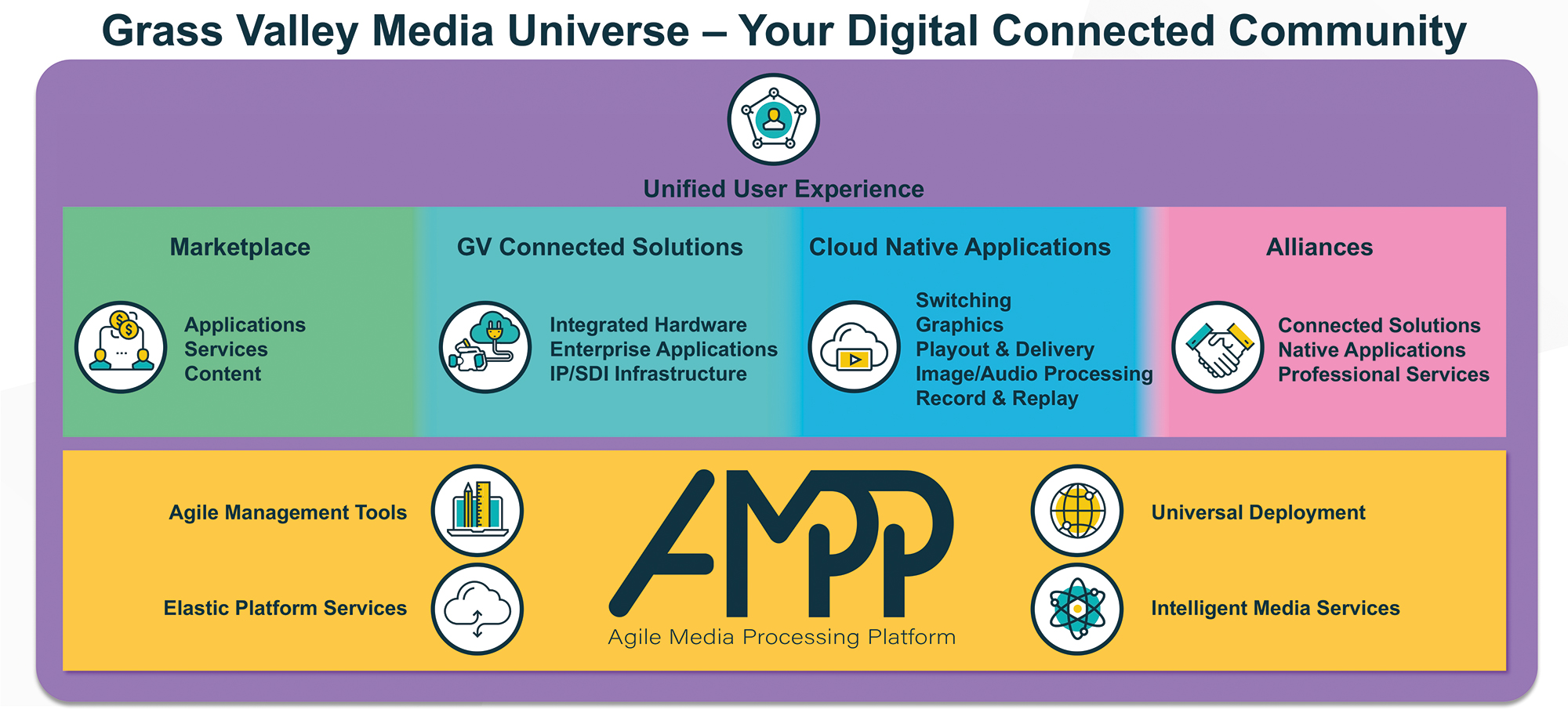 Maycock highlights some of the GV ecosystem's greatest strengths. These include GV AMPP's global low-latency streaming capabilities.
"Prior to our platform, not many people had solved the problem of doing live really well. There tended to be difficulties around latency, timing and other core aspects of broadcast. That's what Grass Valley has solved with GV AMPP; our uniqueness in this space allows us to bring live production and our brand identity to a whole new generation of software."
Moreover, with requirements evolving at an unprecedented rate – and sometimes in unforeseen ways – it's a software platform that will continue to develop.
"If you look at the history of Grass Valley, you can clearly see a golden thread through everything we've done – and that's around the whole area of live production. With AMPP, we've managed to take all the capabilities we have developed and move them into a pure software domain, giving customers enormous adaptability."
Seamless user experience
Inevitably, some benefits have been given a chance to shine during the pandemic. While Maycock stresses that
many trends were already underway before Covid-19, GV AMPP's ability to create the same interaction – whether
in the broadcast centre or working at home – has become essential.
"We are unique in being able to provide a seamless user experience, wherever people are located."
Moreover, GV AMPP is conducive to supporting other industry trends, including pop-up channels around major news or sports events:
"With a cloud-based platform like ours, you are afforded flexibility to scale something up or down much more easily."
OTT is now part of every conversation we have with a cusotmer
Maycock also anticipates fresh applications in gambling, where speed is everything when people are betting on live proceedings:
"That's possible because we've achieved incredible low-latency performance across the platform."
While accelerating change in media and entertainment heralds creative and monetisation opportunities, it also requires services to focus firmly on the bottom line. With GVMU and GV AMPP, Maycock is certain that businesses are being empowered to address challenges head-on.
"By leveraging cloud-based technologies, media companies are able to adapt to digital disruption – and change the economics of what they're doing. With GV AMPP, we are moving the dial on their costs once again, making it much easier for them to service all the new demands in a way that works both technologically and economically."
For more on Grass Valley solutions, click here.
This article first featured in the Spring 2022 issue of FEED magazine.