Party with Panasonic
Posted on Mar 29, 2022 by FEED Staff
Sponsored editorial
FEED investigates the Panasonic Training academy and Belgian DJ Yves V wows audiences and content producers with a live stream built on a wealth of innovative tech

As the holidays approached at the end of last year, the Covid-19 pandemic forced yet more rounds of isolation. People needed cheering up. It's now almost a cliché to observe that lockdowns have accelerated the willingness of companies to roll out livestreamed or hybrid events. And the tools for pulling these off in new, more exciting ways are now widely employed.
Panasonic's raft of production technologies, including its industry-standard PTZ cameras and next-generation live production platform Kairos, have become essential kit in building new media experiences during these challenging times. In autumn 2021, Belgian music producer and DJ, Yves V, teamed up with Panasonic to deliver a seasonal celebration for music lovers worldwide.
"At a time when it's still difficult to bring fans together face-to-face, I wanted to lift everyone's spirits as we approach Christmas," says Yves V, "and what better way than through music and dance?"
Its studio complex is also one of Europe's greenest, powered by 10,000 SQ M of solar panels
Raise your glass-to-glass
Panasonic reached out to AV equipment banker AED group, headquartered in Willebroek, Belgium – just outside of Antwerp. AED Studios, located in Lint near Antwerp and Brussels, is one of the key production hubs in the Benelux area. Its studio complex is also one of Europe's greenest, powered by approximately 10,000 sq m of solar panels, using electrical heating and featuring computer-controlled, energy-efficient LED lighting.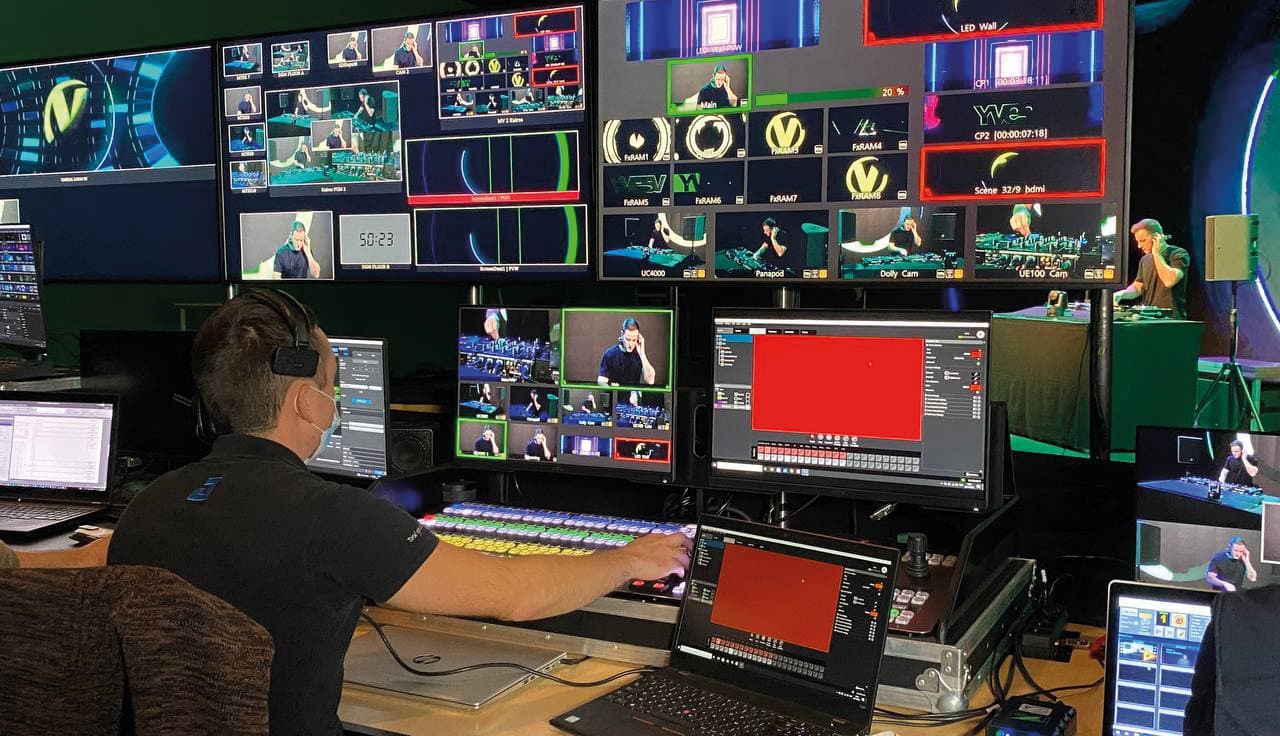 The event was a chance to test the "glass-to-glass" workflow of Panasonic's live production platform. This was done by producing the major music event with a second stream, allowing audiences – especially those in the content production sector – to watch the action in real time, via the master control room. AED's extended reality studio was selected as the site. The XR Studio (an appropriate designation for such a climate-conscious company) has capabilities for the entire bouquet of extended reality broadcast applications. The build was a partnership between a number of companies, including AED Display, MalfMedia, AV Wizard, By Lex Concept-Design-Control, QBE and Eurogrip. It was fitted with high-end floor and side wall LED screens, real-time rendering, camera tracking systems and Panasonic PTZ cameras. AED Studios is also home to one of Panasonic's Kairos Training Academies, and has already developed expertise with the live production platform.
The production used five camera sources, shooting Yves V's set against an LED backdrop. These were made up of two Panasonic AK-UC4000 studio cameras, with in-person, socially distanced operators. There was also an AW-UE100 for close-ups on the DJ deck, the AW-UE150 4K PTZ camera on a Panapod, and the AW-HE145 PTZ on a Tecnopoint rail and dolly.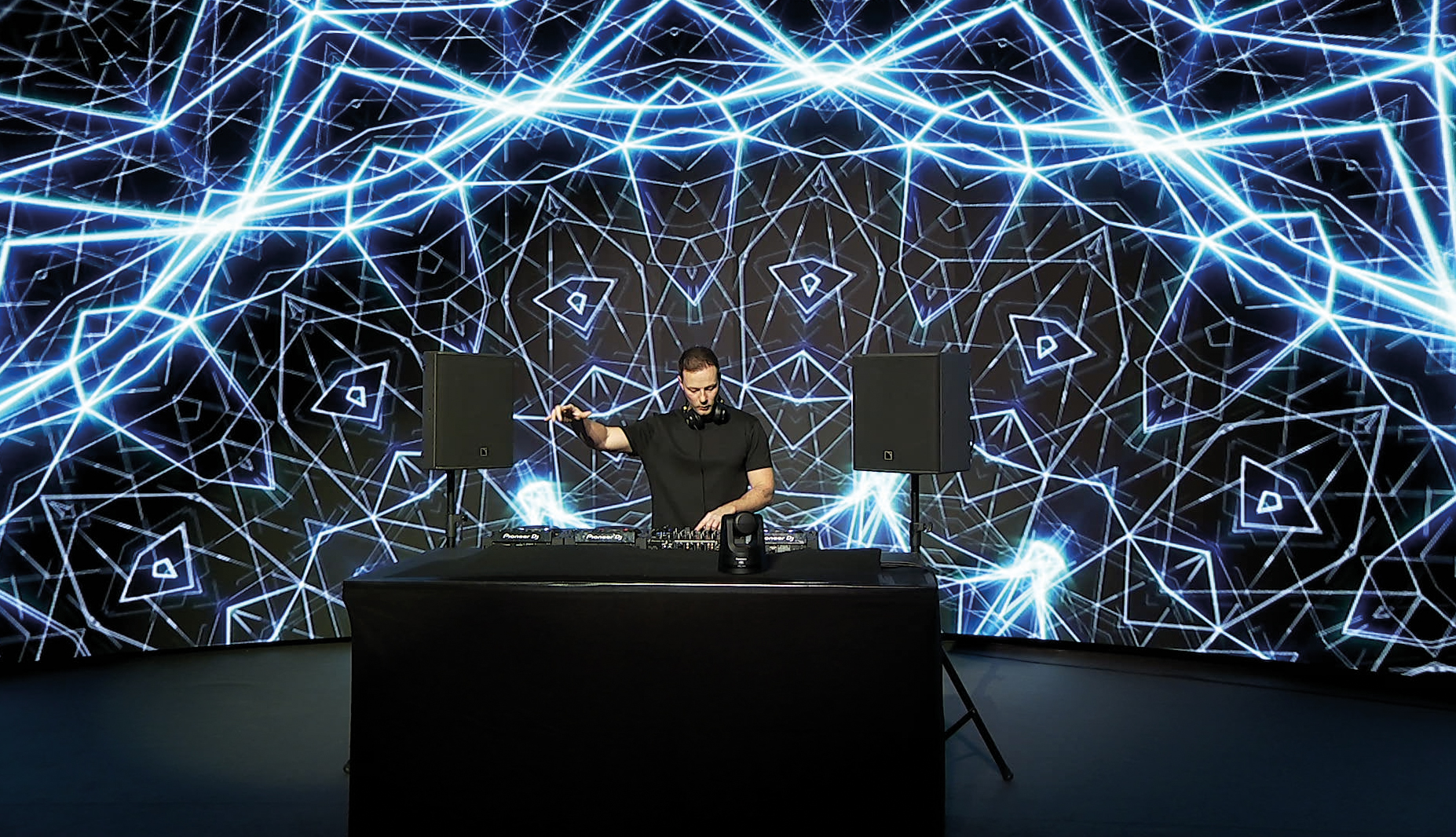 Additionally, there were camera set ups in the control room, capturing the live showcase of the production from behind the scenes. This stream-behind the-stream was built from 15 different sources, including – in addition to the five camera feeds from Yves V's studio set – the new AW-UE50 and AW-UE80, a POVCAM and GoPros. The entire set-up for the main program stream, from gimbals to multiviewer outputs, was under the control of the Kairos system. And while it was right next door to the studio, there's no reason the production couldn't have been controlled from 100 miles away.
"Kairos was at the heart of the production," explains Anna Arkatova, product marketing manager at Panasonic Business Europe. "It managed all the input and output sources, including the LED backdrop and graphics behind the DJ during the stream."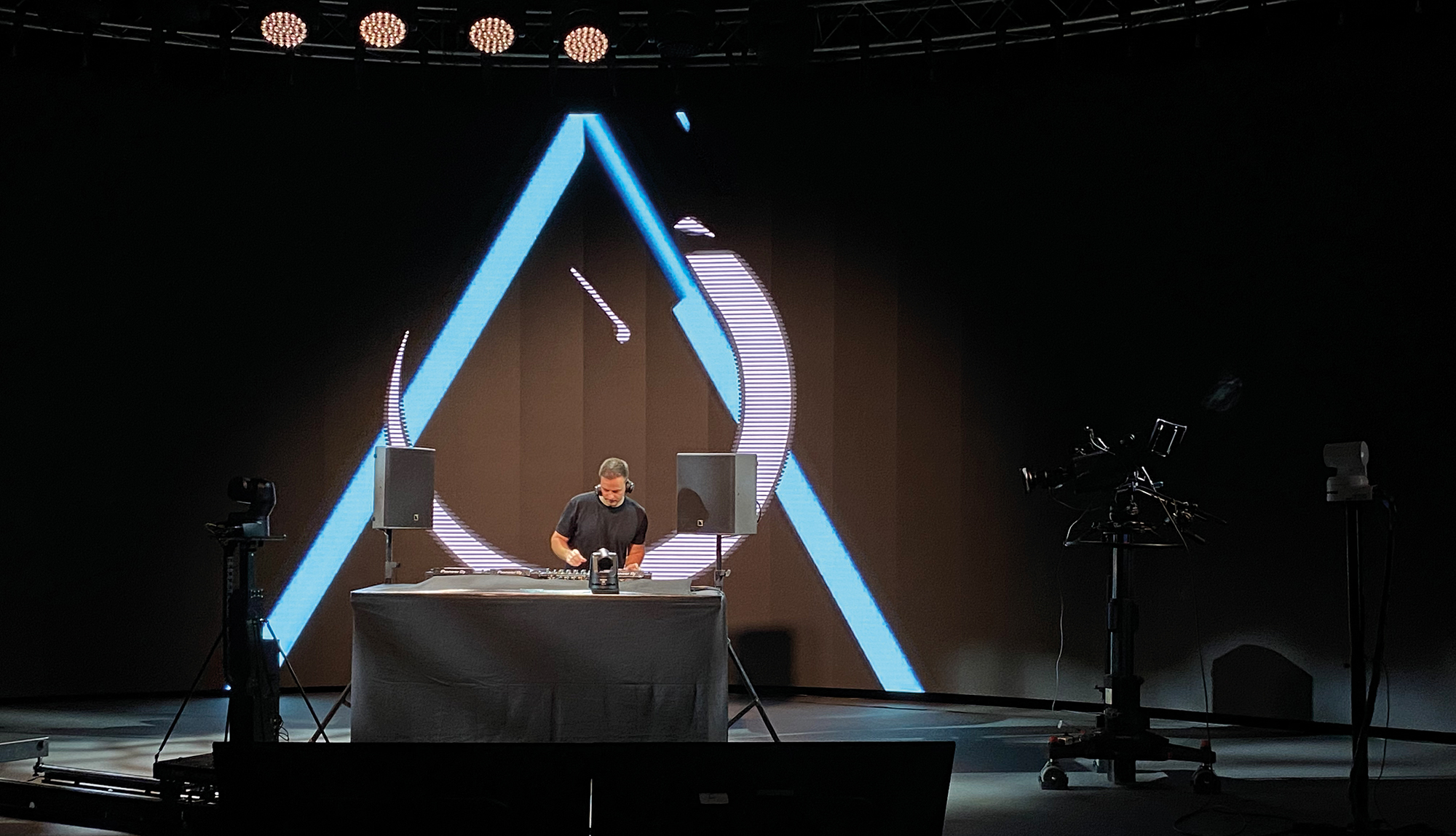 Bringing the world together
The Yves V set was delivered to his YouTube and Facebook pages, while the behind-the-scenes stream from the AED control room went to Panasonic's YouTube page. Remarkably, as popular as Yves is, the Panasonic workflow video has had even more views than the original set. Techniques for efficiently creating complex streaming content from a single studio are, unsurprisingly, being sought out by creatives worldwide.
"People are particularly keen to see how it all works in the background," says Arkatova. "We haven't done this kind of presentation before. We wanted to show the technology and how you can enhance that experience, beyond just one light, one camera and a stream. There were multiple options that were automated – and in line with Covid-19 restrictions."
We wanted to show how people can now deliver music from anywhere
Brands like Boiler Room started streaming live DJ sets. Then bigger events and festivals caught on, with mega-show Tomorrowland conducting its festival entirely digitally in 2020. It incorporated elements of VR to conjure the feeling of being at a real event, not just sitting at home in front of your screen.
"We wanted to show how people can now deliver music from anywhere – especially as Covid-19 regulations keep coming back. It was important to showcase this without any compromise in quality and with maximum efficiency, but at the same time ensure safety for the participants by being able to control everything remotely. I think it's something that is here to stay."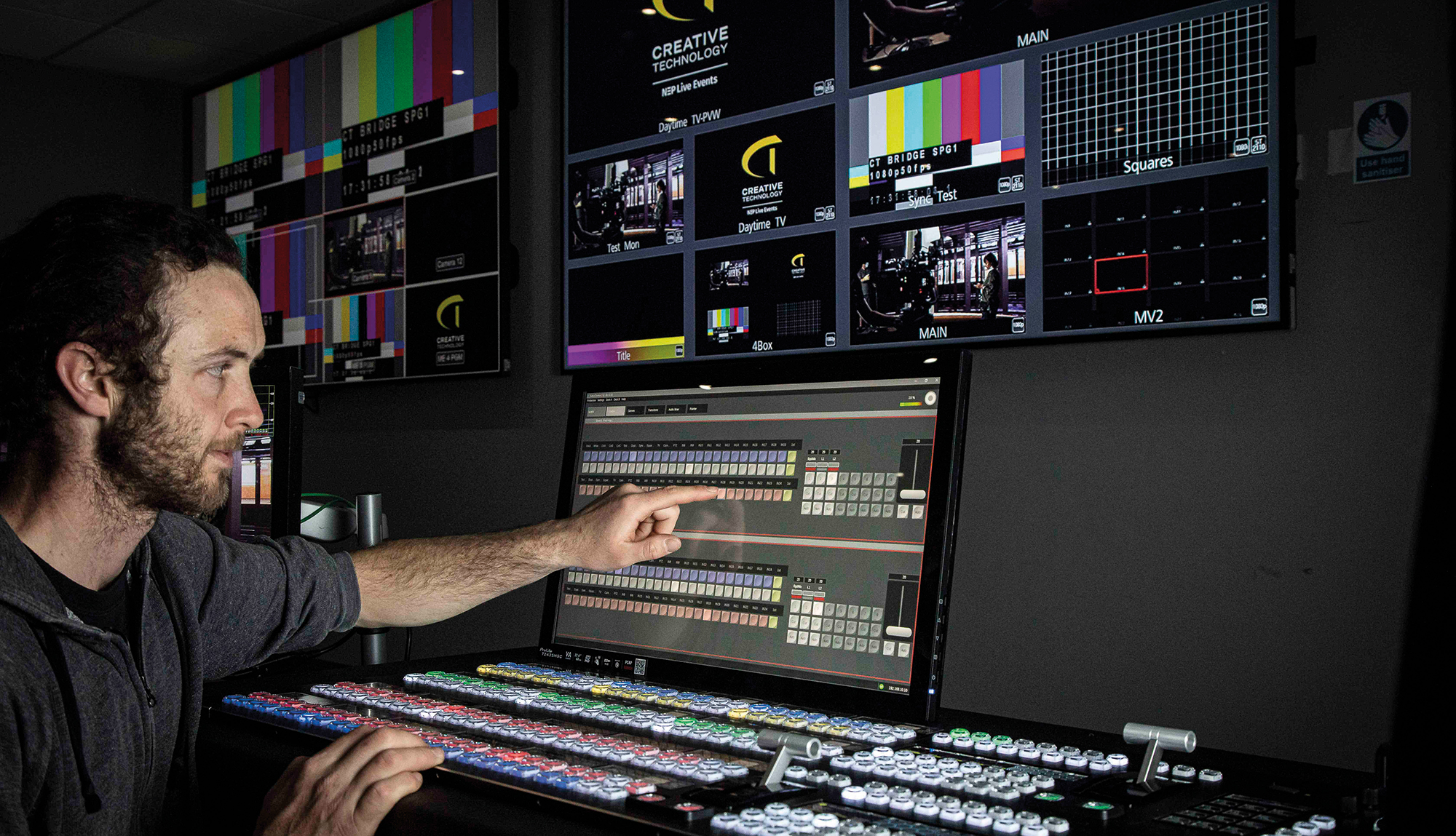 Panasonic training academy
In mid-2021, Panasonic established Kairos Training Academies across Europe, to help broadcast technicians, live event operators and freelancers improve their operation of the Kairos live production platform. In addition to AED Studios in Belgium, centres have been set up at Creative Technology in the UK and Sweden, KST Moschkau and Lang AG in Germany – and VMB in Spain.
"There is huge creative potential in live video production and streaming services for broadcasters and event producers. Not to mention remote production and classic broadcast mixing," says Thierry Heldenbergh, MD at AED Display. "By providing a full demo and training facility, we'll bring users face-to-face with the system, provide real 'on-the-job' training and show the platform's full capabilities."
The Kairos Training Academy Network ensures Panasonic has systems available across Europe. But, it also provides market experts to explain how the platform can be used across diverse areas of content, including live events, sports, TV broadcast and even corporate.
This article first featured in the spring 2022 issue of FEED magazine.