Scotland, scenery and skateboarding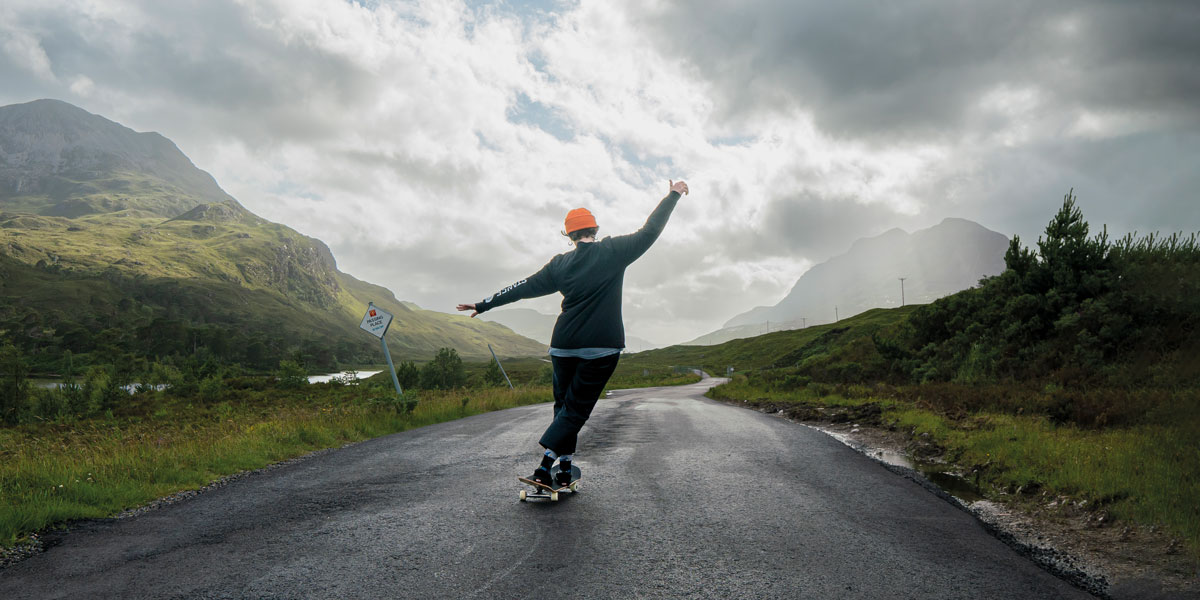 Posted on Sep 26, 2023 by FEED Staff
Rachel Sarah's short film A Land for Everyone follows adventure photographer Hannah Bailey and skateboarder Lyndsay McLaren as they explore the Scottish Highlands
Opening with a moody, wide-angled drone shot of a dramatic Scottish Highlands landscape, you can immediately tell that Rachel Sarah's short film A Land for Everyone is going to be rich in Scottish nature and scenic videography.
A 'land', in skateboarding, is to complete a trick successfully – the idea behind the short's title. But in this land, the outdoors, skateboarding and adventure are for everyone.
"I primarily work in the outdoor sector," begins Rachel Sarah, freelance filmmaker. "My stories, as a result, are based on the environment, along with adventure sport – kind of tying the two together." 
As women who grew up in Scotland, adventure photographer Hannah Bailey and skateboarder Lyndsay McClaren's teenage selves never imagined a career in skateboarding would be possible, so the adventure was a nod to their childhoods and the journeys they have been on ever since.
Ironically, Rachel herself doesn't actually skateboard. "I think it was important for Heather and Lyndsay that I wasn't a skateboarder because they wanted something totally different."
Dream team
"Hannah and Lyndsay have known each other for ten years, and had wanted to do something like this for a while," continues Rachel. "I already knew Hannah, and the fact that she's exceptionally talented – a skilled producer and photographer.
"I then discovered that Lyndsay cares hugely about communities, and had helped to build this amazing skate community group. I quickly realised this was a dream project. I couldn't say no – even
if they had asked me to do it for free!"
The short film follows Hannah and Lyndsay traversing the wild, winding roads of Torridon as they explore the belief that 'respect, protect and share' applies in the outdoors, in skateboarding, as well as in everyday humanity.
As they revisit and reclaim the highlands and lowlands of their youth, their ultimate goal is to challenge perspectives, combining their love of adventure and the outdoors with their passion to protect it and invite more people into these spaces.
Naturally, filming in Scotland came paired with some volatile environmental challenges. "Scotland is the main location I use for my work," Rachel explains. "The Highlands especially tend to get all seasons in a day. Not forgetting the midges."
Gearing up
Despite having a plethora of camera equipment to choose from, Rachel knew that for this shoot she'd need her usual trusty choices.
"I went with my favourite run-and-gun filming setup – my Sony A7 III and the versatile Sony 24-105mm f/4 G OSS. When anybody asks me what my favourite documentary-style set up is, my answer is always this simple combination.
"It's light and easily stabilised; exactly what I need for a project where I was running around shooting handheld. On a few special occasions when Lyndsay disappeared off to skate in the distance, I got my tripod out – my Manfrotto MVH500AH – and switched to the Sony 70-200mm f/2.8 GM OSS II.
"I worked hard to try and not rely on the DJI Mavic Air 2 – it's far too easy to get lazy and let those beautiful drone shots take over a film. Plus, it's never reliable in the Scottish winds that you'll get your drone back again! But a few times it went up just when it needed to, creating some of the shots where Lyndsay and Hannah looked so tiny in the mountainous landscape."
Valuing creativity
MPB supports projects like these for a range of reasons. Namely, to meet its goal of increasing accessibility and inclusivity within the photo and video industry.
"We're proud to support visual storytellers through MPB Original Films," describes Mick Watson, head of content at MPB. "These inspirational projects are a brilliant way for us to act on topics and causes close to our heart, including greater access to kit and opportunities, sustainability and circularity – supporting photographers and videographers through their visual storytelling journey."
A Land for Everyone proves you don't have to fit the stereotypical narrative of how a skateboarder or adventurer looks or acts to embrace everything the land has to offer.
"Our purpose is to open up the world of visual storytelling in a way that's good for people and the planet. Projects like A Land for Everyone tackle important themes," Watson concludes.