Where is that media file?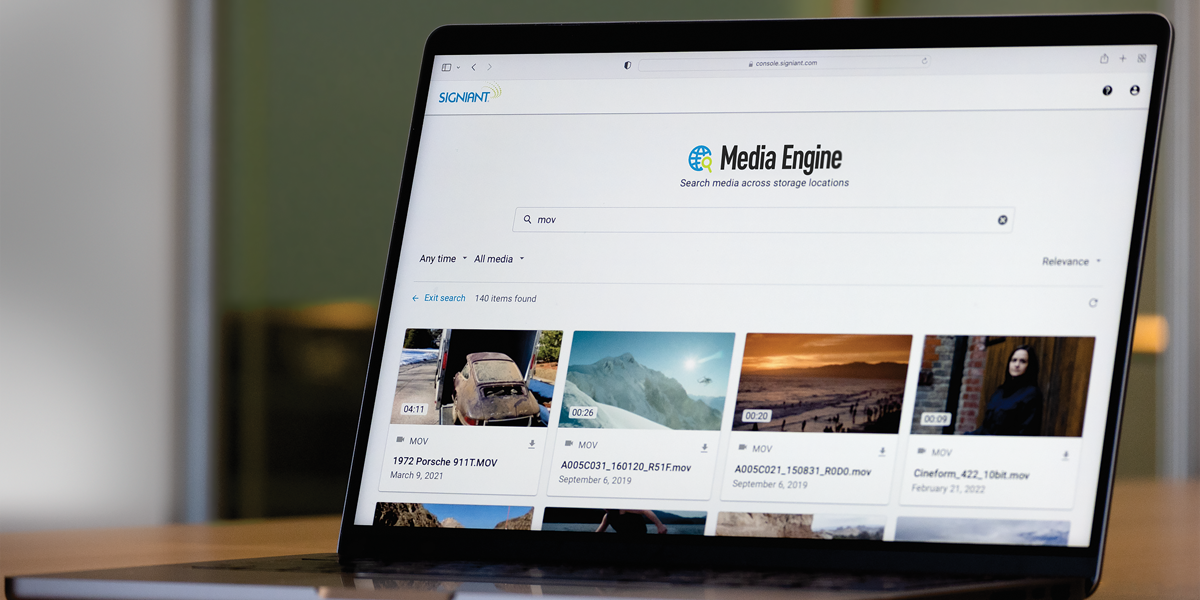 Posted on Oct 4, 2022 by FEED Staff
Sponsored editorial
Efficiently locating that one media asset that needs to be quickly sent to someone across the globe can be a challenge. Is Media Engine the answer?
Words by Senior marketing and communications manager, Scott Carroll
We live in a world of distributed production, complex interweaving workflows, scattered storage, multiplying content destinations – and tight deadlines. The last thing you need to be doing is searching directories for a file. Maybe it's on local storage. Or in the cloud. Or 3000 miles away.
There's a better way. It's called Media Engine – part of the Signiant Platform.
Forward-thinking media companies use cloud-based workflows. To be seamless and painless, two abilities are paramount: smart media management and super-fast file transfer. Know what you have, find what you need, preview to make sure, and move it to where it needs to go… now!
Known as the 'move large files fast people', Signiant helps over 50,000 companies move petabytes of media data every day. Customers asked us to help solve their media management challenges – and search was top of the list. 
How does Media Engine Work?
With Media Engine, the Signiant Platform just got a lot better. Media Engine is a simple yet powerful media management tool, integrated with our fast file transfer technology. Now you get easy search and preview, together with ultra-fast data transport.
Type in a search bar, find what you're looking for, preview it, then move it. If you're on the Signiant Platform, the software is deployed at each endpoint of your storage. You just need to turn it on.
If you're not on the Platform, joining is easy. Signiant's applications are easy to deploy, use, and are well-priced – scaling to any size of business.
Once activated, Media Engine indexes all your media on any Signiant-connected storage, anywhere, on-prem or in the cloud.
After indexing, simply search and preview media. It's Google-search simple. Type in a keyword, phrase, file type, or anything else. Media Engine quickly performs a search across all your storage. Files matching your criteria pop up instantly in a simple interface. Different files, different versions. It couldn't be easier.
To be certain, preview any clip through a thumbnail. No more guessing or downloading unwanted media. Now that you've found your asset, take action. Immediately. Signiant file transfer capabilities are directly integrated. Download to your desktop or send to any location anywhere – at the speed of Signiant. 
This article first featured in the autumn 2022 issue of FEED magazine.