On a Qvest for a Remote Editing Revolution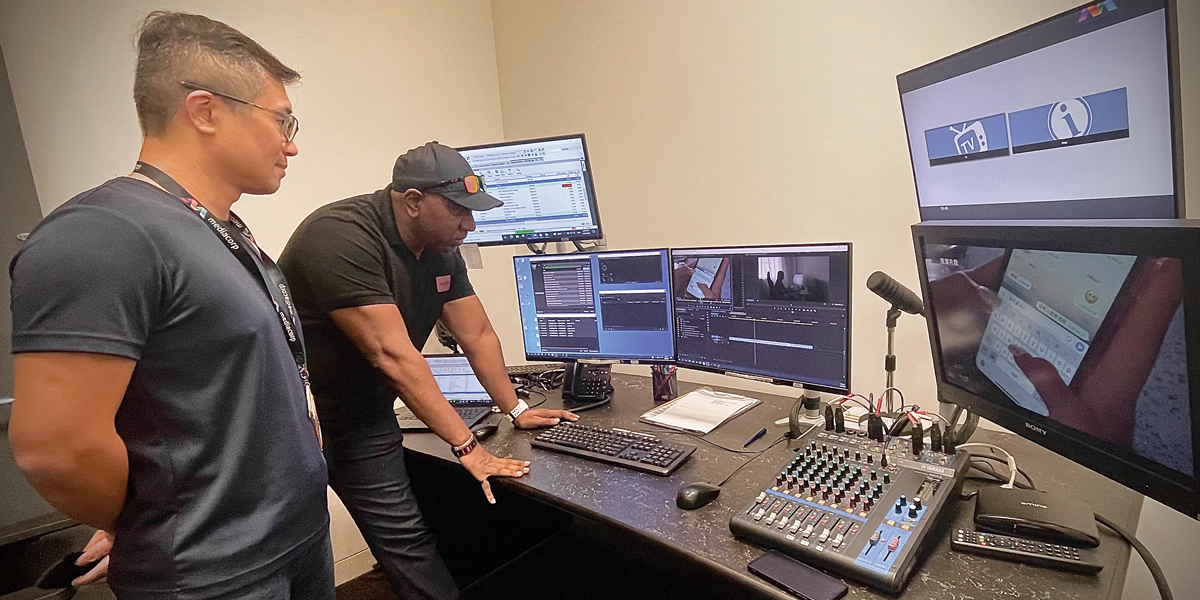 Posted on Apr 18, 2023 by FEED Staff
Sponsored editorial
Qvest's cloud-based video editing solution is allowing Mediacorp's newsroom in Singapore to work more flexibly and efficiently than ever before
Since the first pandemic-related lockdowns in 2020, there has been no shortage of fascinating stories about the impact Covid-19 has had on broadcast and media workflows. In particular, the need for presenters and production staff to be able to work away from the broadcast centre – be it at home or out in the field – with the same effectiveness became more acute than ever. This has led many organisations towards implementing a more flexible, cloud-based model moving forwards.
But in the case of Singapore-based Mediacorp, the conversation around remote editing was already well underway. "They had already been thinking conceptually about this kind of development for three years beforehand," confirms Hans Baumgaertner, solutions owner for cloud editing, VDI and post-production at Qvest, the company responsible for ushering Mediacorp into a new era of flexible editing. "It was fortuitous that when they approached us in spring 2020 to get involved, we'd already been working on a remote editing solution that supports more efficient and highly collaborative workflows."
The project continued a successful partnership between Mediacorp and Qvest that began when the latter was engaged to provide integration expertise to Mediacorp's one-north digital media hub development that was finalised and taken into operation in 2016. This time, the focus was on the Mediacorp-owned Channel News Asia (CNA) service. Producers had become increasingly aware of the requirement for news staff to work seamlessly outside of the premises.
With its own remote editing solution approaching being ready for deployment, Baumgaertner and his team were confident. "We knew we could provide a single pane of glass solution with an efficient UI and cloud-native approach that means content can be easily brought into and out of the cloud for editing by anyone on the team – whether they are working in the broadcast centre or elsewhere."
Centralised application management
At the core of the new infrastructure is the media workflow integration platform provided by Qibb, with whom Qvest has enjoyed a long, productive partnership. Thanks to centralised application management from Qibb and use of Amazon Web Services for cloud infrastructure, users can access fully integrated, location-independent programs and functions like video editing software Adobe Premiere Pro. Meanwhile, the PC-over-IP protocol – powered by cloud workstations' dedicated GPUs – provides high-quality, low-latency connectivity that ensures editors can collaborate in
an identical production environment.
In its current incarnation, the solution has been calibrated to support frame-accurate video editing of HD resolution content in the cloud. If their needs change in the future to include 4K, the transition is painless. The flexibility of the solution keeps cloud costs manageable by matching the right hardware for the task. But one of the great strengths of the Qibb integration platform is, as Mediacorp's cloud strategy evolves even beyond editing, their journalists will always have access to the needed connectors for various media workflow tasks in a continually growing vendor node catalogue.
The solution's support of increased sustainability and reduced costs also demands attention. For optimal control of resources and costs, data can be visualised via the Qibb dashboards to rapidly identify potential efficiencies, determine if resources are being used optimally – and then take action. With more staff working from home more frequently, the new approach is perfectly aligned with Mediacorp's vision for reducing its carbon footprint.
"I could say we 'finished' the work last September, but that wouldn't be quite right," smiles Baumgaertner. "Ever since the bulk of the project was completed back in September 2022, there have been a number of enhancements, and I am sure that will continue in the future. It's very much an ongoing partnership with Mediacorp, which has been a superb collaborator throughout."
Indeed, while the initial project focused on Mediacorp's newsroom operations, discussions have been already taking place on expanding into more areas of the company's output. Because Qvest's cloud editing solution was designed from the start to be a re-sellable and expandable solution thanks to Qibb, other media companies can benefit too.
"Through the work we did previously – and during this project too – we now have a really strong blueprint for remote video editing," confirms Baumgaertner. "We're very excited about where it might lead in the future." 
See more at qvest.com.
This article first featured in the spring 2023 issue of FEED magazine.