TSL goes virtual for TallyMan training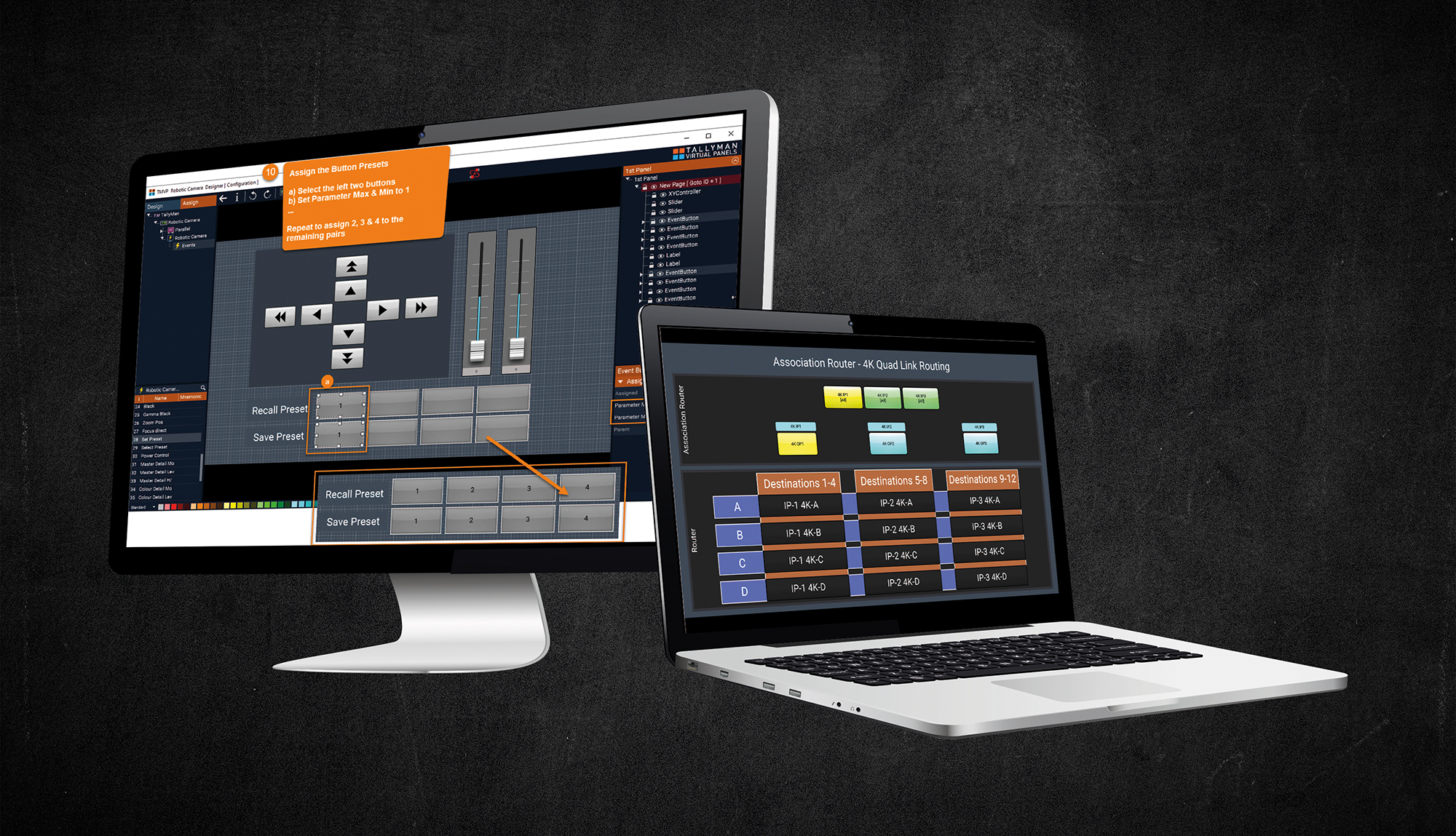 Posted on Oct 11, 2021 by FEED Staff
Sponsored editorial
An innovative virtual training programme has expanded the expertise of TallyMan Advanced Broadcast Control System users around the world
A few years ago, TSL Products developed an in-person training programme to help customers optimise their use of the TallyMan Advanced Broadcast Control System. This programme subsequently shifted to a virtual format, following the success of the 2019 'world tour.'
These virtual sessions are led by TSL Products customer support engineer Ben Bate: "We have received fantastic comments from people who learned TallyMan does more than they realised. Some people want to use the system mainly for tally or routing, but through these sessions, many are pleasantly surprised at how easily they can make virtual panels, or achieve other control capabilities for less obvious devices."
The TallyMan training regimen has three primary objectives: to ensure users have the knowledge to unlock the full capabilities of their control system; to provide targeted sessions aimed at key customers, including systems integrators; and to give users the ability to configure their TallyMan system independently via a remote team-viewer session.
Deep dives and device control: Virtual training lessons
The TallyMan training programme is structured into two, four-hour sessions, spaced a week or so apart to ensure you are not overloaded with information. Within these two sessions are four primary 'lessons' that cover aspects of TallyMan usage, routing and device control, and much more.
Lesson 1:
An introduction to TallyMan and device interfaces, including routing control. In this first lesson, users learn to connect and debug interfaces to real devices, and configure user interfaces to interact with them.
Lesson 2:
A deep dive on the TallyMan Virtual Panel (TMVP) and device control. This session covers how to design user-friendly panel interfaces, and control devices such as robotic cameras – enabling operators to access systems across their facilities from a simple and focused control surface.
Lesson 3:
Information on tally management, and the configuration of multi viewers and UMDs (Under Monitor Displays). This includes instructions on emergency change-over systems and the building of a completely functional tally system connected to router and switcher emulators.
Lesson 4:
Exercises that broaden expertise on the configuration of higher-level functions, including signal grouping and automated routing.
The desire for online education is there – we're addressing it
Beyond the basics
Addressing the mechanics of the virtual sessions, Bate asserts that each person connects remotely and is given access to a virtual machine running in TSL.
"They can run the course on their PC, or receive a TallyMan to follow the syllabus. On top of more basic aspects, such as control of the video routing, we also show them how the system can be used to control elements like robotic cameras, to integrate virtual panels, and so on."
Bate – who has configured control systems for customers around the world, conducting extensive training for broadcasters – foresees virtual training programmes becoming commonplace. He thinks the concise, information-rich format is something that applies to other technologies in the TSL portfolio. The roll-out of online training by TSL also resonates with a broader industry take-up of skills enhancement, that's seen a boom during the pandemic.
"People have more time on their hands," observes Bate, "so the ability for customers located in, for example, Beijing or Sao Paulo to immediately get trained has been appealing."
It also means there is a much greater opportunity for customers to acquire the skills they need before undertaking a TallyMan-orientated project, whether more traditional broadcast operations or next generation streamers.
"The desire for more online education is definitely there – and we're addressing it with the TallyMan virtual training programme."
For more information, and to register for TallyMan online training, click here.
This article first featured in the Autumn 2021 issue of FEED magazine.