Belarus is now home to more than a hundred tech start-ups, which were galvanised recently by a decree from the country's five-term President, Alexander Lukashenko, who promised its IT industry tax breaks and other incentives.
One of these beneficiaries is Minsk-based StringersHub, which evolved out of a news agency founded in 2015. The agency's online news-based product, which launched last November, is a marketplace platform, through which stringers (freelance journalists or photographers) and eyewitnesses can upload their video and sell it, while media buyers can acquire content and make orders.
"While we were running the agency, we noticed that one of the main issues for our customers was a shortage of stringers in certain locations. So we thought why not evolve our business into a platform that gathers footage from all over the world through stringers?" asks company CEO and co-founder, Yakov Buta. While the start-up has attracted more than 3000 stringers and 100 media buyers to the platform, Buta acknowledges the challenge is trying to attract both buyers and sellers of footage simultaneously.
"The problem with launching a marketplace-based product is chicken and egg. Right now we have more stringers than media buyers," says Buta. "We are working with agencies like AP, although they only want to use us for certain things. We think the answer will be to attract even more stringers so we can cover as many locations as possible," he adds. 
StringersHub has launched ad campaigns across Facebook and Google to attract more buyers and more stringers, and this spring it plans to launch another campaign targeting producers of interesting and newsworthy user-generated content (UGC). Although much UGC tends to end up on social networks, Buta argues the appeal of StringersHub is that if the footage ends up on a TV network it will be seen by millions of viewers, rather than a few hundred followers. "And they can earn money and gain journalistic experience," he adds.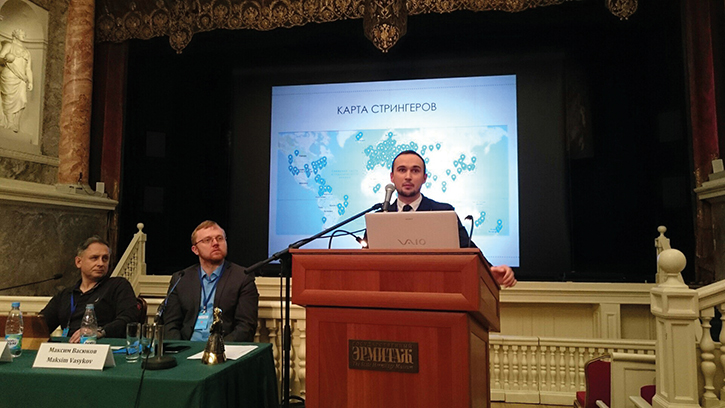 STRINGERS CLUB StringersHub has a mobile version of its website, enabling livestreaming right from the scene.
"Minsk is an active start-up city – there are plenty of outsourcing companies based here and we have some great developers."
The hub has also partnered with Wire News, which will allow the hub's signed-up stringers access to an international press card to help them cover events. Around 35% of the hub's current stringers are professional TV cameramen while others include videographers, video editors, journalists and members of the public. Stringers are able to set their price for content and negotiate rights directly with the buyer (although the platform insists on the right to promote the footage).
Revenue from the hub will be generated via three main sources: from the commission it charges for each used item, through the use of its own stock footage and finally by providing the platform as a SAAS option to media agencies to enable them to work more directly with their own stringers for a monthly fee.
The company has a mobile version of the website ready to go – which will enable eyewitnesses to send footage more quickly or to livestream right from the scene – and also working on apps for iOS and Android for a spring launch. The next step, Buta says, will be development on AI-based features that generate searches and recommendations, as well as being able to offer features, such as multi-camera streaming. 
While revenue from the news agency has been channelled into the hub, the company has also received over $150k in funding – some from Belarus business angels and $40k coming from Starta Accelerator, whose mission is to introduce start-ups with East European R&D roots to the US market. 
"We were in their offices in New York from January to May speaking with mentors who specialise in sales, PR, marketing pubic speaking, investment – but the biggest value was to make some new connections in the US market, which is one of our key targets," says Buta. 
For now, however, the start-up's HQ will remain in Minsk where the hub is putting the country's ability to churn out good software engineers to good use. "Minsk is an active start-up city – there are plenty of outsourcing companies based here. When we build other parts of our platform, such as multi-camera streaming, we will be able to do it here fast, cheaply and to a high quality," he adds.