Eyes on the Road: In-Car Entertainment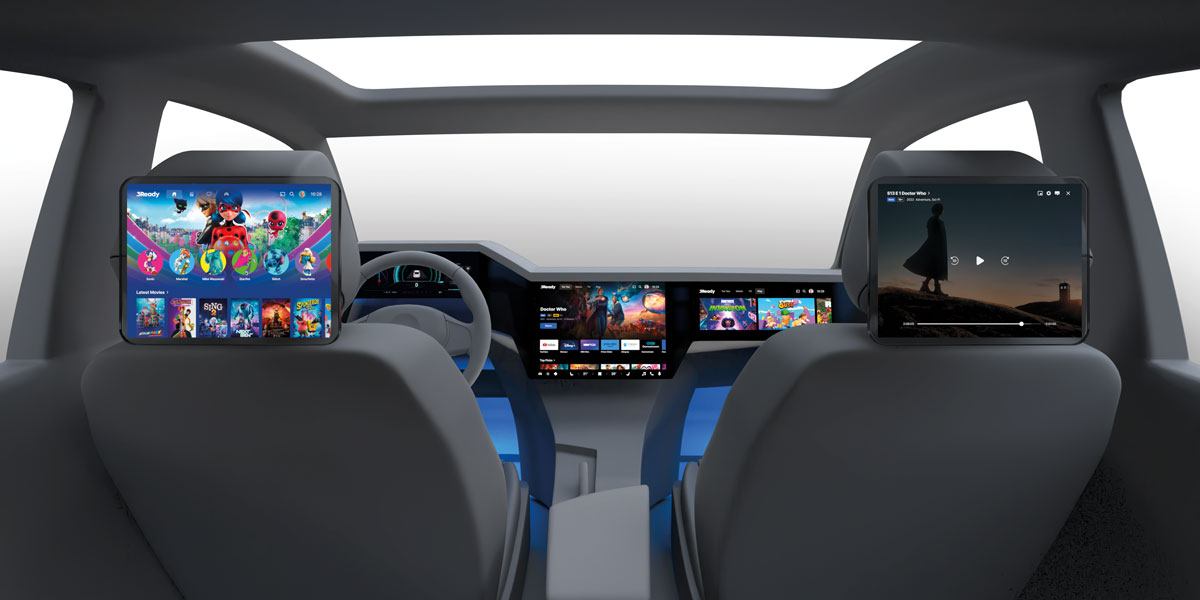 Posted on Jun 27, 2023 by FEED Staff
In-car entertainment is at the very start of its journey, with international success being its final destination. Fuelling this are the technologies being transported from the broadcast, streaming and pro AV trades to the automotive world
It already seems a distant memory when the closest thing we had to in-car entertainment systems were chunky, brightly coloured plastic, portable DVD players – way back in the noughties. Prior to that, fun could be found in deciphering the squiggling lines of a fold-up map – or simply a good old-fashioned round of 'I spy'.
But as with many other entertainment-related technologies, cars and the functions within them have changed immensely over the past decade. In part fuelled by the gradual and competitive global transition to electric-powered vehicles, the mogul manufacturers are constantly seeking out new ways to make travelling by car more of an immersive experience – rather than simply a necessity. 
According to a report by Allied Market Research, the global in-car infotainment market was valued at $21,410 million in 2020 and is projected to reach $37,530.4 million by 2028 – registering a CAGR of 7.5% from 2021 to 2028.
The report continues to define in-car infotainment as "a suite of advanced features that is integrated into cars to provide entertainment, information, connectivity and communication. 
"The complete system uses audio/video interfaces, touchscreens, keypads and other types of devices to provide entertainment to drivers and passengers. Advanced infotainment systems facilitate Bluetooth, Wi-Fi connectivity, voice recognition, live media streaming and smart technology for mobile integration."
This has opened the media tech floodgates, with multitudes of car manufacturers shifting their gaze to the broadcast and pro AV industries. The secret to achieving a studio-quality tier of content within vehicles' infotainment systems lies firmly within the world of broadcast. 
Switching up a gear
A perfect example of a company that has taken full advantage of car manufacturers' increased leaning upon the AV spaces is 3SS. 
Founded in 2009, 3SS is a media technology trailblazer when it comes to system integration, software engineering, UI/UX design innovation and solution architecture. It most notably developed 3Ready, which is a leading entertainment ecosystem.
"In a nutshell, we are developing individual entertainment experiences across different devices, connected TV boxes, mobiles, tablets – you name it," begins product manager for automotive entertainment at 3SS Tomasz Dzikowski.
With its early success sitting predominantly with set-top boxes and pay TV operators, using 3SS' 3Ready solution, consumers can enjoy personalised super-aggregated content in engaging UX – working across all screens from TV sets, smartphones, tablets, games consoles and displays in a family car.
"Two years ago, the team at 3SS identified the automotive entertainment space as a rising new trend. This is the point at which I joined, as my previous background was purely automotive – I was a product manager at Kia."
A global company, 3SS's solutions are currently used by over 50 million households – and are the number one most trusted solution for Android TV products – a clear example of how broadcast tech vendors already have the tool kit necessary to break into the automotive space.
The 3Ready platform already possessed the ideal components that a car manufacturer might be looking for. This provides a complete framework, which can act as a base for all applications. The platform then supports that with its remote management system – allowing the option to aggregate all devices from one centralised hub.
Cars are the new smartphone
The easiest way of looking at it is to add cars to the catalogue of smart devices in which the general population consumes content today. 
"Set-top boxes and pay TV operators are still at the core of our business," explains Dzikowski. "Automobiles are just additional devices. It's interesting because of the current trends. There are increasing numbers of connected cars on the road, with vehicle screens getting faster and bigger."
Of course, those screens need filling with content and applications – something that broadcast tech vendors can say they are well versed in when it comes to regular devices and platforms.
"Entertainment has of course always been an aspect of cars in audio form, but not video until now. We provide the code base for the applications – a remote-management tool to control those experiences. We even provide the cloud components.
"Our technology works to simplify operations and business logic for our clients, whether it's a pay TV operator, broadcaster or automotive."
All of this was made possible for 3SS due to its technology being built to be agnostic across the board.
"From the core of our business we have to flexible," Dzikowski highlights. "The same goes for the automotive space. There are the needs from carmakers to build individual entertainment experiences – ones that then allow them to take ownership as part of their vehicle and brand."
What does the future hold?
Perhaps the most exciting dynamic to the world of in-car entertainment is that it is an entirely new and untapped market for the M&E trades. 
"There's a reason why companies like Google are investing heavily in this space," emphasises Dzikowski. "They understand the potential of it. It's an interesting area for content partners to tap into, especially in the OTT space, when it comes to things like advertising and monetisation. Already Google Play, Amazon Fire TV and Tivo are being used by car manufacturers – but that's still a small fraction of the market and its potential."
The word 'immersive' has been buzzing around the broadcast and AV worlds so much already this year, and this is no less for vehicles and infotainment systems.
"Some vehicle systems are so powerful that you can use Dolby Atmos with your own content," Dzikowski expands. "Also, there are tools to create ambient lighting on top of that, ultimately transforming a simple car journey into a stunning, immersive, theatre-like experience."
Let's talk safety
Naturally, the idea of in-car entertainment leads to questions and complications over safety. With mobile phone usage being a common cause of car accidents, how can these new avenues for distraction be considered safe for our roads?
"There are different technologies in place that allow passengers to consume content without distracting the driver," responds Dzikowski. "For example, there is 'active-screen technology'. This means the driver will not be able to see what is being streamed on the passenger display – instead it will appear blank. 
"There are cameras that are tracking whether the driver is looking at the road or the screen, and then based on that it will block content."
Thanks to in-car entertainment systems being networked within a car, there are additional safety measures that can stop entertainment when attention is needed for something else.
Until autonomous cars become the norm, it will be passengers receiving the entertainment dynamic to any given car journey – not the driver.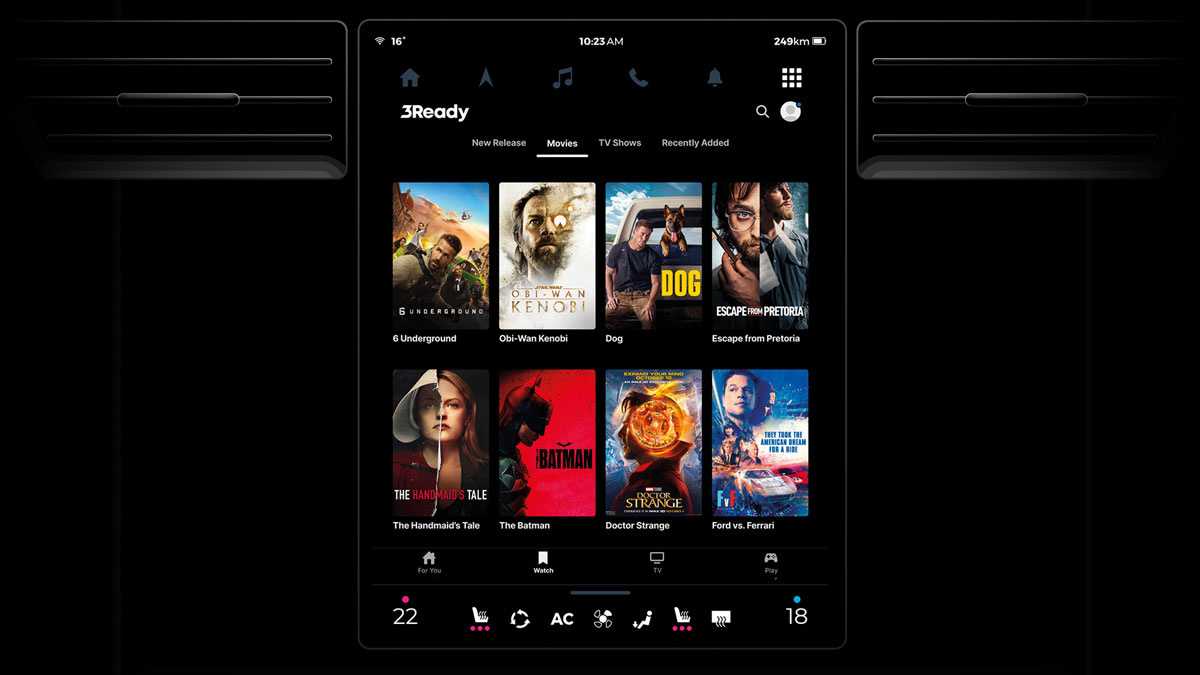 Experience reimagination
According to a report by Accenture, BMW has been leading the way for years with BMW ConnectedDrive. This digital, entertainment and services suite allows users to control in-car comfort, entertainment and security, and also manage facets of their daily life. Configuring at-home devices and booking services can all be done on the road.
Subsequently, BMW brought on board key strategic partners to expand ConnectedDrive's experience ecosystem and connected services. Particularly notable is its integration into Tmall Genie, the first smart voice assistant developed by China's Alibaba AI Labs.
Vehicular voices
An Accenture report claims that the popularity of voice-activated services increase the potential to become integrated more deeply across home and car. Mercedes-Benz's bespoke in-car voice technology system, Mercedes-Benz User Experience (MBUX), is one of the most intelligent voice assistants on the road. MBUX can cater to a range of driver and passenger needs, and by leveraging a variety of biometric technologies, it also provides a new level of personalisation and security that is accessed with your voice.
Opportunities will also arise from original equipment manufacturers (OEMs) partnering with third parties that are already doing voice-activated services well in other sectors. The key will be not building bespoke, siloed features that may limit future options, but broadening the aspects of daily life that customers can control from within their car. The question for OEMs then, is: what products, services and experiences can they create around the car's new role as an extended living space?
Extending driving reality
Many have talked of the potential for a new world of in-car entertainment once autonomous cars become a reality and drivers turn into passengers with extra time on their hands. But why wait? 
The in-car entertainment experience is already ripe for reimagining. There's plenty of scope to create more immersive experiences for passengers, which is what Holoride is now doing. Holoride's mission is to turn vehicles into moving theme parks. 
By combining real-time vehicle data with XR, it offers a dynamic back-seat experience that matches every movement of the car to turn each ride into a thrill. By harnessing the data and idleness at hand to create experiences ranging from gaming to educational tours, it's transforming tedium into time well spent.
Come fly with me
Cars, of course, are not the only modes of transport that can offer entertainment and immersive experiences.
The aerospace industry has been a pioneer when it comes to this, with screens filled with films, TV shows, music and games now a given for any long-haul flight. 
In-flight entertainment systems have been revolutionised over the past few years, delivering a personalised cabin of the future.
Panasonic Avionics have been working tirelessly with Airbus to provide a tailor-made on-board movie selection, interactive in-seat gaming experiences as well as video chatting with the crew – while cruising at 30,000 ft. 
Originally published in the Summer 2023 issue of FEED.