Sports Reporter: Sports Technology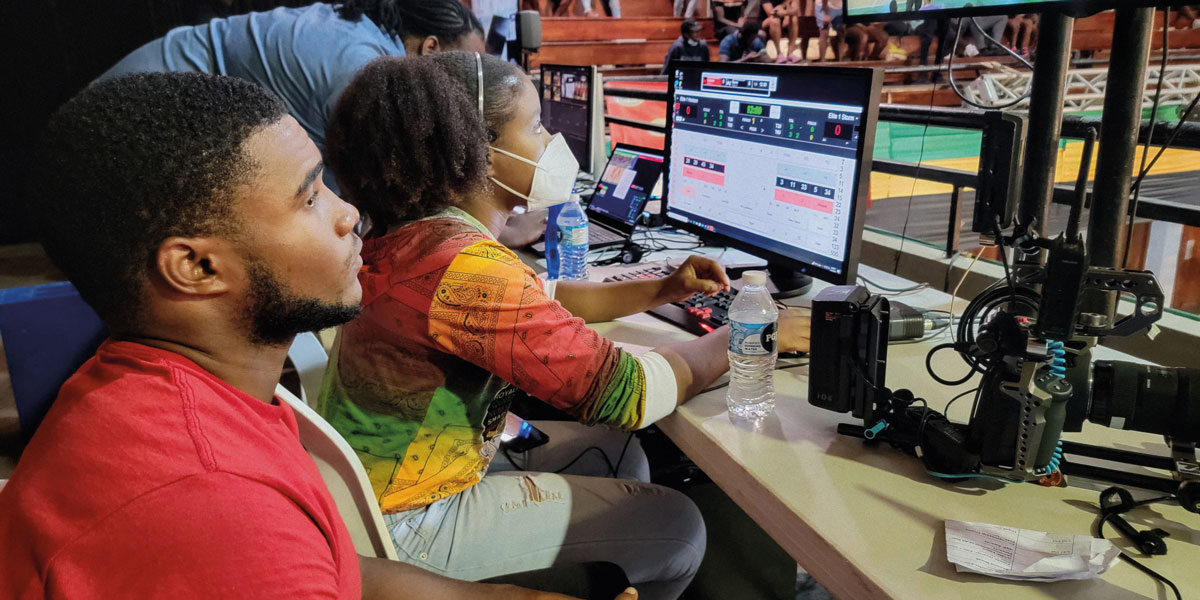 Posted on Jul 11, 2023 by FEED Staff
Bringing the latest developments in sports technology and broadcast
Words Katie Kasperson
Competing in the Caribbean 
The Elite 1 Caribbean Basketball League (E1CBL), with the help of Jamaica-based M-One Productions, used Clear-Com's Encore Analogue Partyline system for its summer tournament. The system included CC-300 headsets, a CEP-RK Rack Kit and an IF4W4 4-channel 4-wire interface.
E1CBL is committed to elevating Caribbean basketball and local communities by providing role models for its youth. The summer tournament, held at Kingston's National Arena, hosted players from Jamaica, Barbados, Ghana, Canada, the US and UK.
The tournament required services for video, audio, graphics and commentary to produce a live feed for Flow Jamaica, which broadcasts to Jamaica and Trinidad. 
"We used the Clear-Com system for the director to speak to camera ops, the producer to speak to floor management, for the 'red hats' and, on that same line, to graphics and audio," explains M-One CEO Saeed Thomas.
"I think not many people expect the level of production [we provided] coming from Jamaica," he adds. 
Thanks to its collaboration with Clear-Com, E1CBL is positioned to compete with North American professional basketball leagues.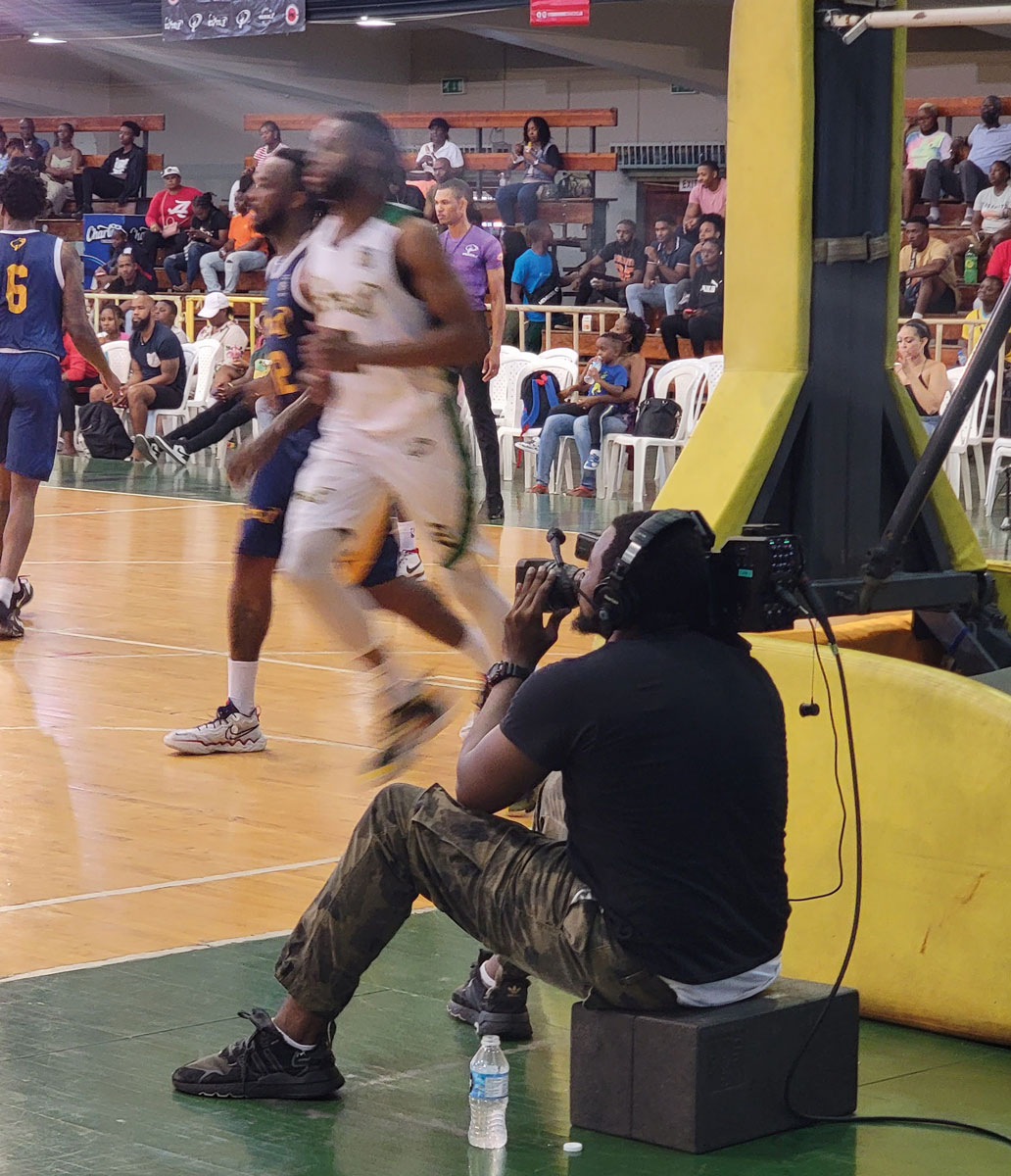 Remote refereeing
Riedel has provided Belgium's Jupiler Pro League referees, on-pitch assistants and video assistant referees with intercom systems to ensure flawless live communications during top-flight football matches. 
The Bolero wireless and Artist digital matrix systems support Royal Belgian Football Association (RBFA) referees in both the Jupiler stadiums and the VAR Replay Centre, located approximately 25km south of Brussels. 
Riedel has supplied all the stadium kits with a Bolero-S wireless intercom system, which includes antennae, beltpacks and run headsets. At the VAR Replay Centre, Riedel installed its Artist 1024 intercom system and 1216 panels, which support up to nine simultaneous matches.
"Referees ask their remote colleagues for the final word on a call, and we know it makes a difference for the fans!" says sales manager Kristof Vanden Eynde.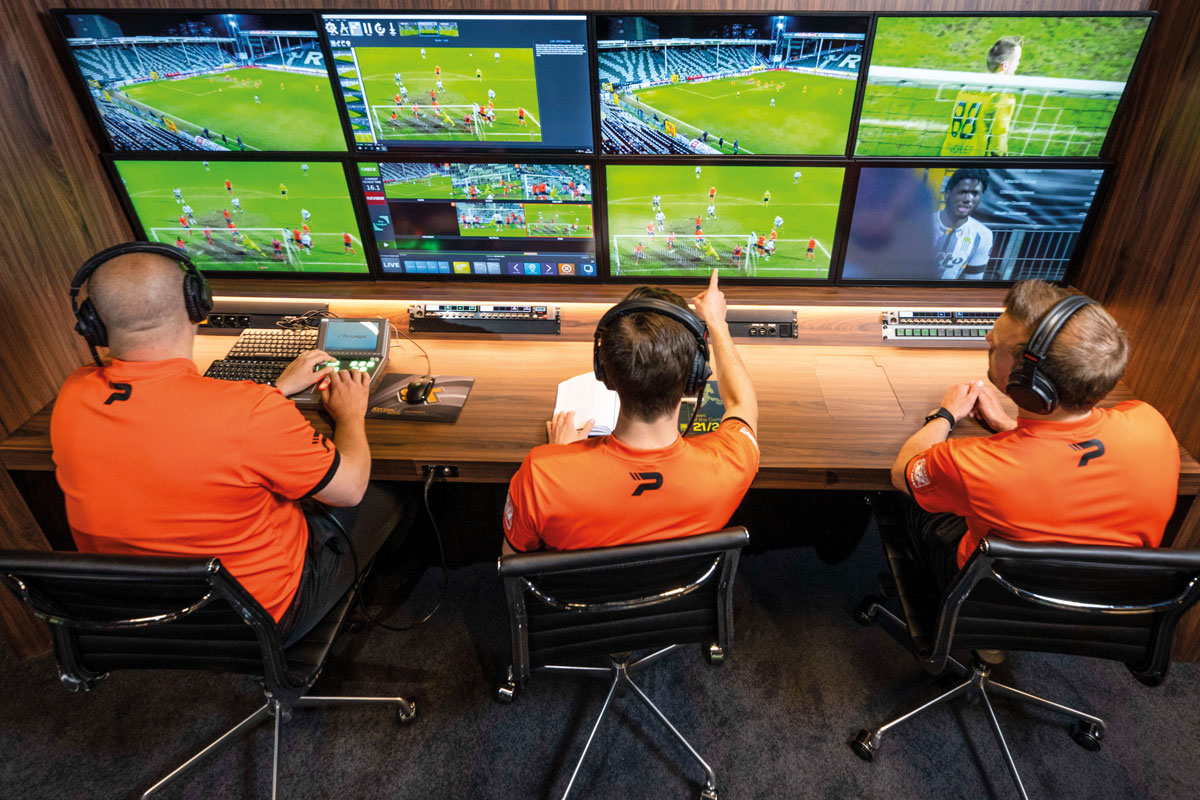 Production of champions
Dejero provided its Smart Blending Technology to its international production partner, Quality, during the Rugby European Championship 2023. Quality used Dejero's EnGo video mobile transmitters, WayPoint receivers and Control cloud-based management system to effectively produce, deliver and distribute content during the competition, which was won by Georgia.
Quality covered the first, second, third, sixth and seventh place finals in Badajoz, Spain, as well as the fourth and fifth place finals in Amsterdam, Netherlands on 19 March.
Dejero's EnGos were used in eight European cities throughout the tournament, transmitting live feeds from six cameras at each stadium. At Quality's production hub in Madrid, two WayPoint receivers decoded the video feeds, ready to be shared with the events' 11 rightsholders. Dejero's Smart Blending Technology created a 'network of networks', delivering this content via cellular and fibre. Finally, the Control system allowed the Quality team to monitor and manage its Dejero equipment from any web browser.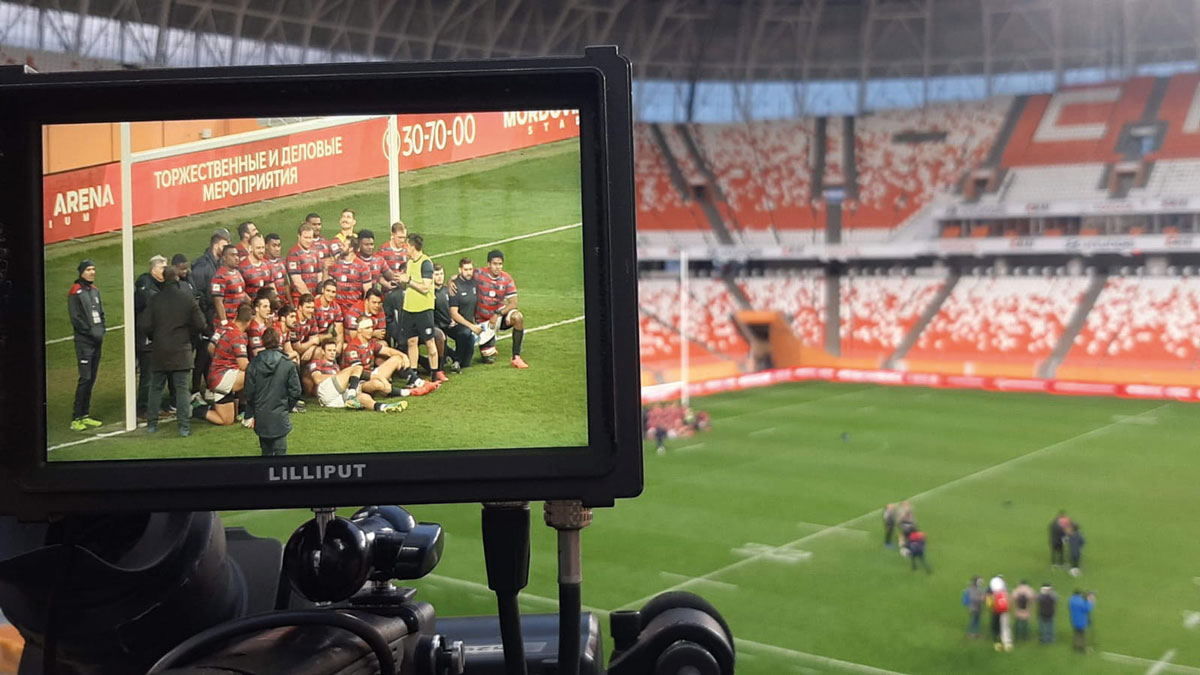 Serving the sports advertising community
Eurovision Sport, part of the European Broadcasting Union (EBU), will use Ad Insertion Platform's (AIP) SSAI solution, CDN distribution and ad sales services on its Sport Digital Platform, which aims to maximise sports exposure.
AIP's CDN will optimise the delivery of Sport Digital's video streams, promising a superior quality of experience (QoE) with reduced costs. AIP will also provide its sales service, AIP Monetiz, to Eurovision Sport, giving broadcasters another way to grow revenue. AIP's SSAI solution will be integrated with EBU members' ad servers.
The partnership will introduce monetisation opportunities for sports content, appealing to advertisers worldwide.
Digital humans 
Epic Games revealed its vision during its State of Unreal keynote at this year's Game Developers Conference (GDC). The developer plans to create a 'connected, open ecosystem and economy' for metaverse worldbuilders.
First, Epic Games announced Unreal Editor for Fortnite (UEFN), which allows developers to create and publish experiences directly to Fortnite's 500+ million player accounts. The editor supports Verse, a programming language aimed at coding the metaverse. Other key features include Niagara, Sequencer, Control Rig and custom assets and audio.
Epic Games is launching UEFN alongside Creator Economy 2.0, a new way for Fortnite creators to earn money based on player engagement. It's also launching Fab – a unified digital marketplace which combines Unreal Engine Marketplace, Sketchfab, Quixel Bridge and the ArtStation Marketplace.
Perhaps most excitingly, Epic Games is launching MetaHuman Animator, enabling creators to design photorealistic digital humans with believable facial performances. This tool will be accessible to developers, studios, filmmakers, hobbyists and the like, regardless of their animation experience. It simply requires a camera to capture detail, which is then transferred onto any MetaHuman. 
Epic Games is also releasing Unreal Engine Version 5.2, an update that introduces new features and optimises existing ones. Watch this space.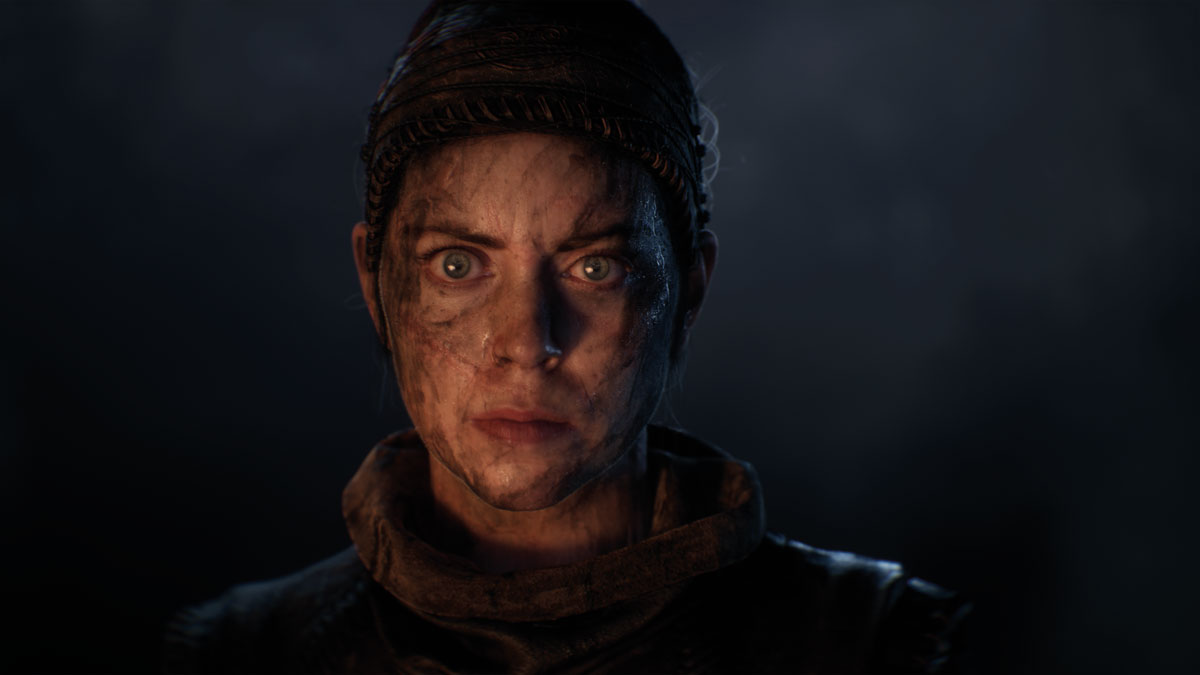 FLASH!
Super streams
VertiCast's CSport is using Harmonic's VOS360 video SaaS platform to stream the English Premier League, the Fifa World Cup and other major sports content to 26 Caribbean countries. VOS360 allows VertiCast to control all stages of its media processing and delivery, including the creation of instant replays from live events. Thanks to VOS360's real-time scaling, geo-redundancy and multi-CDN capabilities, VertiCast can provide fans their favourite sports services with exceptional, reliable video quality.
Wrangling WWE
As part of a recent transaction, Endeavor has acquired World Wrestling Entertainment (WWE). Combined with Ultimate Fighting Championship (UFC), which Endeavor purchased in 2016, the two will form an as yet unnamed $21 billion 'live sports and entertainment powerhouse'.
Endeavor will control 51% of WWE, with existing shareholders controlling the remaining 49%. 
Intelligent installations
Pixellot has signed a strategic partnership with China-based internet company Baidu. The agreement will see Pixellot initially install 200 systems in sports venues across China, with an additional 6000 systems installed over the next three years.
Pixellot uses AI to automatically capture, produce and stream sports games at any level, without needing a camera operator. 
Viva La Liga
News came from Spain's La Liga of a collaboration with tech company Upstream, with the goal to roll out the online portal La Liga Premium to all mobile users in sub-Saharan Africa. The partnership came about due to La Liga's growing popularity across the African continent, and aims to provide its subscribers with access to exclusive content.
INDEXING SPORTS
Newsbridge announced its MXT-1, a generative AI indexing technology which can parse more than 500 hours of video per minute. The tech uses natural language models to create human-like descriptions of video content, attempting to solve the searchability problem.
MXT-1 has been trained on 100,000+ hours of media, entertainment and sports content, making it particularly suited to these industries. It detects faces, text, logos, landmarks, objects, actions and other video elements, generating a 'semantic description' rather than a collection of unrelated tags. It can also be taught to use a custom thesaurus.
While still in beta mode, MXT-1 will enable companies to search, share and capitalise on their archives. It is more cost-effective than mono or unimodal AI systems, saving energy consumption and encouraging infinite indexing.
SUMMIT SOLUTION
The G7 Summit is a meeting of high-profile leaders from across the globe. For the 48th Summit, held in Garmisch-Partenkirchen, Germany, VuWall transformed the town's stadium into a police command centre.
The centre housed VuWall's TRx Centralised Management Software, allowing over 18,000 officers to monitor the G7 Summit as it unfolded. With the help of integrator AVS, VuWall installed a 12×4 wall, 4×2 wall, six 65in displays, 40 encoders, 16 HDMI 2.0 AVXT extenders and two VuScape 640 controllers. TRx combined these installations into a single user interface, enabling operators to drag and drop visuals onto the video walls.
After the G7 Summit, the system was deconstructed and redistributed to police stations in Bavaria.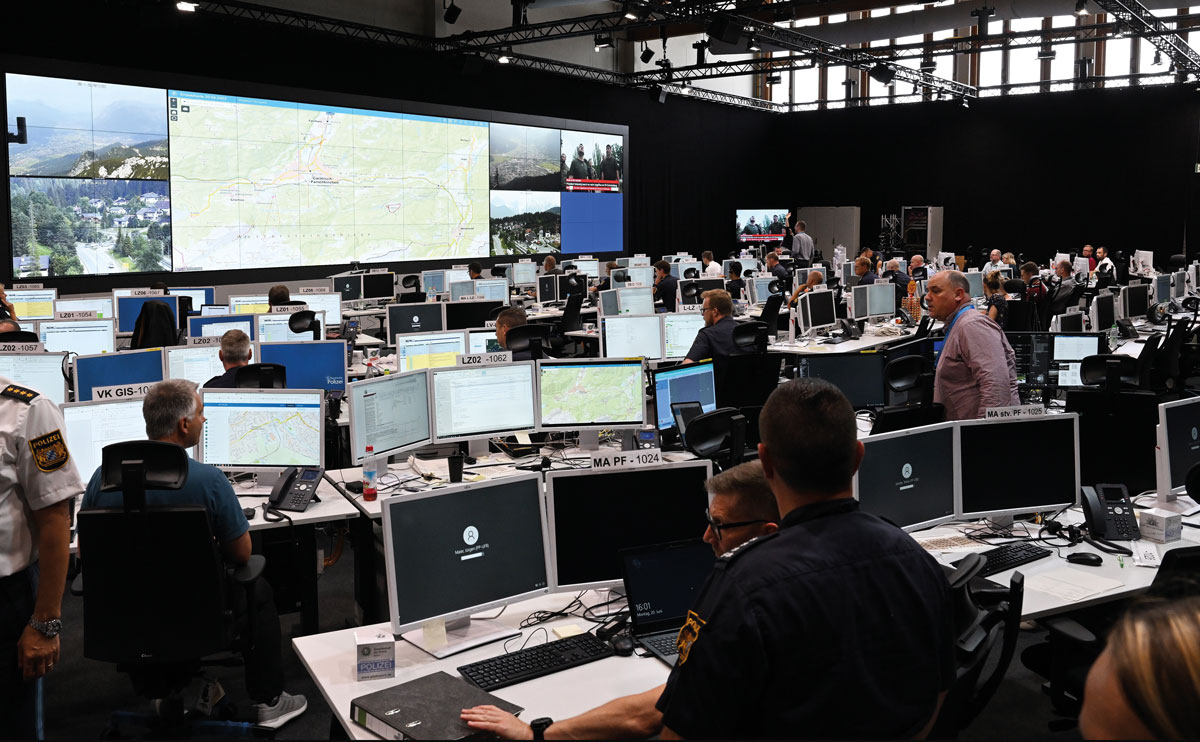 All-in-one interface
Chyron has released an update to its cloud-native production platform, Live. Version 1.3 features a Matchpad module that can manage dynamic motion graphics and highlight key game elements. While Live 1.3 currently focuses on football, the update provides a technological foundation for a range of other sports.
Live 1.3 provides users with an all-in-one interface for sports broadcasting, which includes mixing A/V sources and live commentary, creating graphical overlays and multicam replays and enhancing streams with 3D telestration. Matchpad allows users to upload team and player information prior to a game, which will then automatically populate visuals via a template. Plus, a control panel lets users highlight key game elements.
The Live update introduces new features, like enhanced streaming capabilities, improved input/output configuration settings and increased user control. Drag-and-drop functionality makes file upload seamless, and shortcut keys encourage users without 'any prior graphic playout knowledge' to adopt the platform.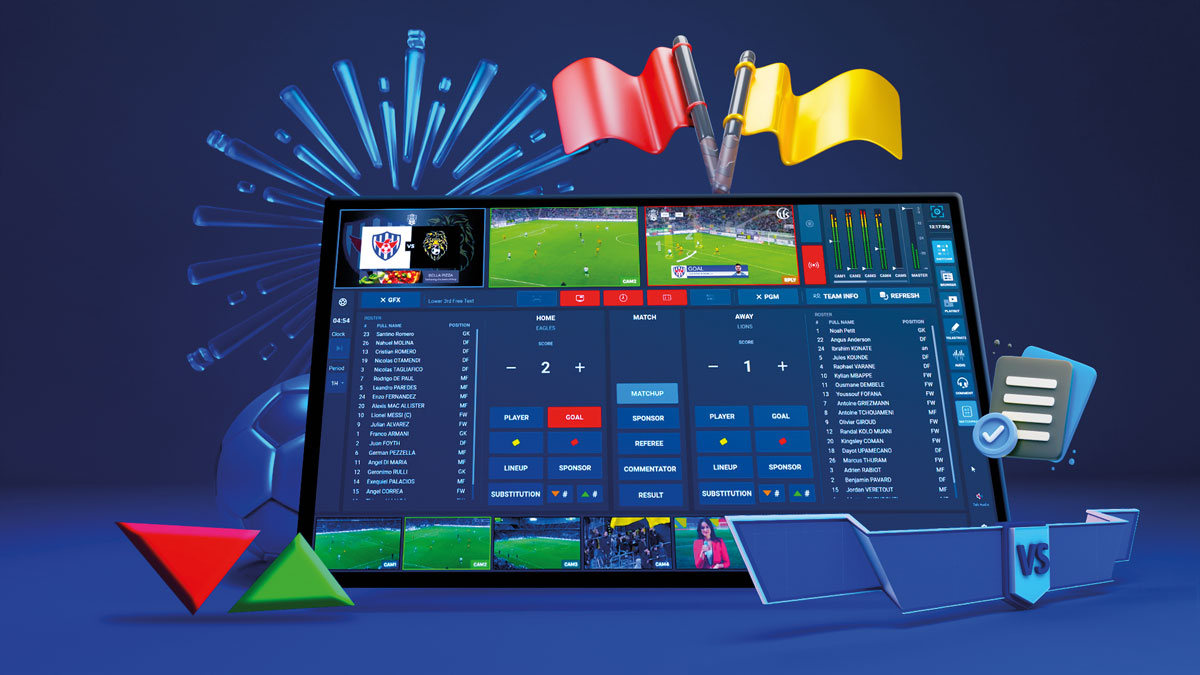 Premier provider
India's media provider Planetcast has been selected by the Indian Premier League (IPL) to deliver HD and UHD match coverage of the 2023 season to Star Sports, Viacom18 and Times Internet. By partnering with Planetcast, these providers will reach more than 400 million cricket fans.
Thanks to Planetcast, Viacom18 will bring the IPL to Indian audiences via JioCinema. Times Internet will take an OTT approach, distributing content to the US, Canada and MENA region via its Cricbuzz website. The Planetcast framework will cover ten stadiums and three ViaCom Sports Hubs across the whole of India, ensuring all IPL cricket matches are included.
Planetcast's full service offerings include playout, feed management, live feed acquisition, low-latency encoding, graphics management, multilingual commentary and AI-based highlights. 
Originally published in the Summer 2023 issue of FEED.