AJA: Simplifying live streaming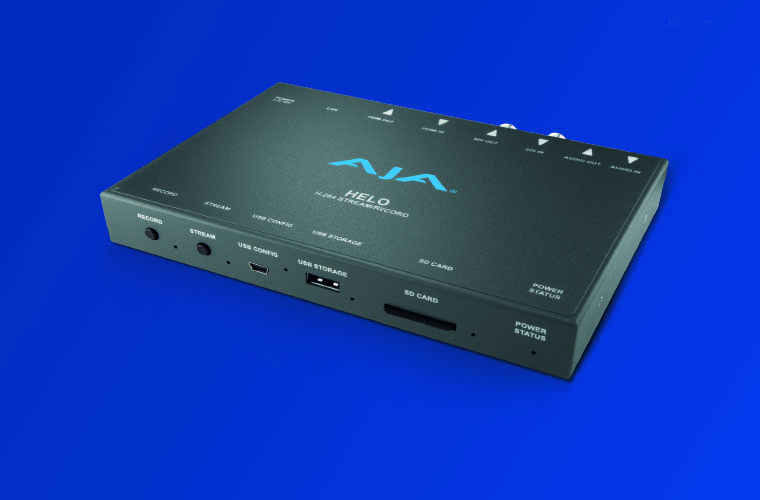 Posted on Mar 15, 2020 by FEED Staff
Sponsored editorial
Trouble-free, high-quality live streaming requires the right tools. AJA offers solutions for a range of live streaming workflows
No two work days are ever the same for Hamburg-based freelance technical director Lutz Conneus. In any given week, he can be found developing a live stream workflow for a public broadcaster, supporting AV for a corporate event or live streaming a band's concert to YouTube. Conneus employs an arsenal of AJA gear, including the HELO H2.64 streamer/recorder, the Io 4K audio and video I/O device and the Ki Pro Ultra Plus digital recorder.
"We offer products you can configure to work in a number of ways," says Bryce Button, AJA's director of product marketing. "Our HELO offering is so straightforward it can be operated directly on the unit, from an iPad, and it also provides RTP, RTMP, RTMP+, HLS, unicast and multicast. Our products are designed to give you a broad range of options."
Button adds that, with the full gamut of AJA's solutions, it is possible to get a simple, off-the-shelf, affordable solution, through to top-of-the-line systems.
"You can tailor your product choice to your environment and the needs of the particular event or client you are working with."
When German public broadcaster ARD wanted to create a parallel feed of its live programming for Facebook Live, it called in Lutz Conneus for an assist. Having worked with the HELO on previous projects, he introduced the device into the workflow two years ago and it is going strong. The set-up consists of several cameras and incoming signals, run through on-site server and a router as a single HD output to HELO, which then streams through to Facebook Live, Periscope and YouTube using streaming service, ContentFlow.
It's a more complex world in terms of choice but we've tried to simplify it for people
One of the major challenges in live streaming for most companies, according to Button, is understanding the balance between available connectivity in the venue and the volume of content to be streamed.
"The best way to do this is to always get a feel early on for what the infrastructure on site is like, and then to find a path to your stream," he says. "You might get promised something but then you find out the bandwidth isn't there or there is too much content to be streamed over it."
The other big challenge is knowing which sources will be used and having the right converters available to create a consistently good-quality recorded product. Button explains that this means understanding if there will be additions such as PowerPoint presentations and YouTube videos as well as your own video stream. AJA offers its ROI Mini-Converters to pull together these different sources so they all have the same resolution and frame rate.
Conneus' AV repertoire has attracted the attention of corporations looking to advance their live streaming strategies. One such company enlisted his help to stream an employee sports match to YouTube.
For this project, Conneus used three Sony cameras, each with SDI outputs, which were fed through an AJA Io 4K video and audio I/O box to a Mac running Telestream Wirecast. The switched signal from Wirecast comprising all three camera feeds was then sent out of Io 4K as one output and run through HELO, then coded, streamed to YouTube, and recorded to a USB drive.
His clientele also includes musical artists looking to live stream concerts to Facebook Live, YouTube and other social streaming platforms. For local band Mom's Pride, he recently deployed a workflow in which three iPhones captured the on-site performance, then that footage was fed through the NDI camera app into Wirecast via a Wi-Fi connection, and then output through Io 4K into HELO and then streamed to Facebook Live.
With so many broadcasters today streaming live or creating parallel live streams to social media outlets, AJA is trying to help by developing simple solutions.
"It's a more complex world in terms of choice," concludes Button, "but we've tried to simplify it for people, with HELO in particular, which contains many platform protocols. Having access to platforms you weren't expecting to broadcast is key. When you're dealing with real-world situations you get someone asking you to throw thew stream to Facebook Live or wherever, and you need a simple way to do that."
Conneus notes: "The HELO and Io 4K are some of the best investments I've made. They're easy to use and extremely reliable, especially compared to other solutions that are out there."
This article first appeared in the March 2020 issue of FEED magazine.