Building bridges for the stream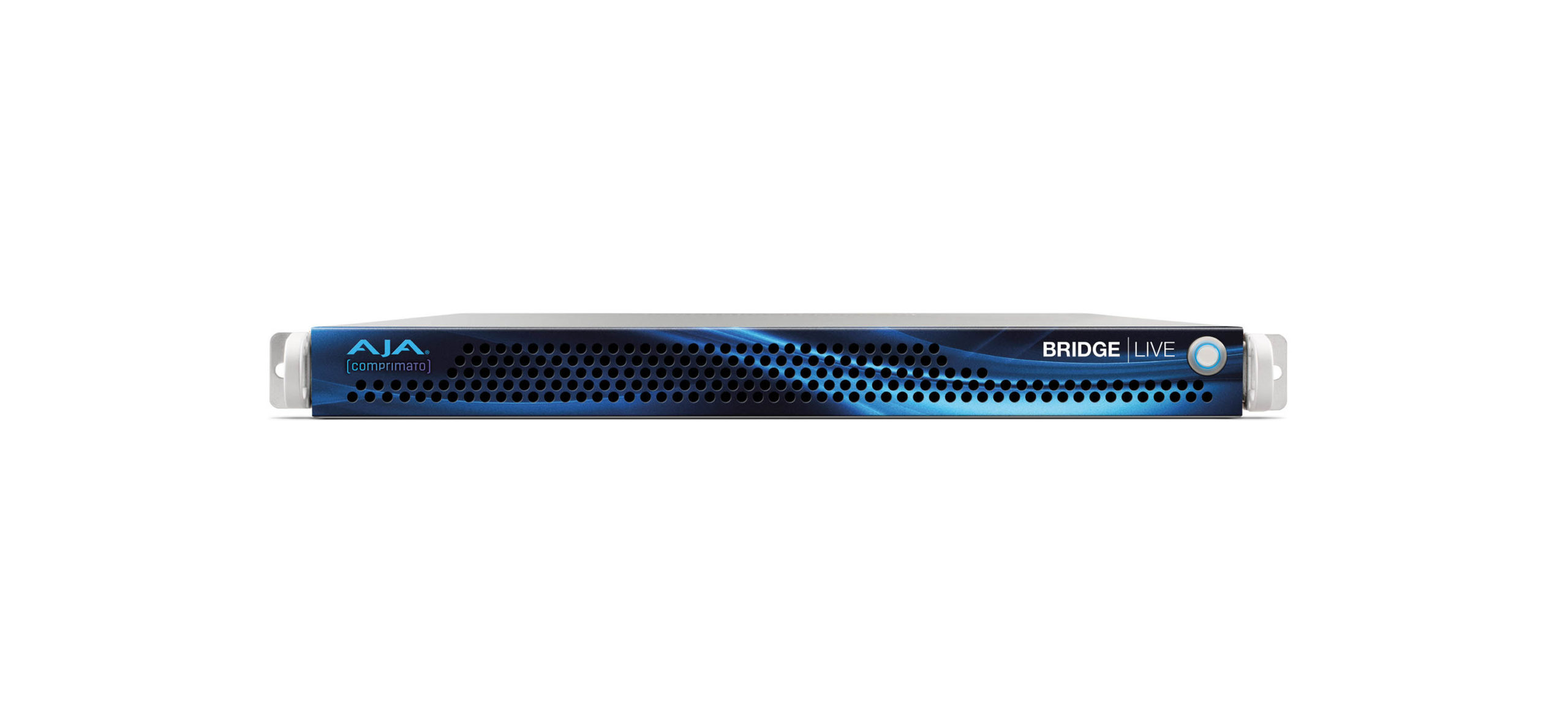 Posted on Feb 25, 2021 by FEED Staff
Sponsored editorial
AJA's Bridge Live is a dependable and secure solution for transport of Ultra HD and multichannel HD video. The OG-DANTE-12GAM card is a Dante audio embedder/disembedder that bridges the gap between SDI and the Dante networking environment
Bridge Live
With cloud becoming a reliable part of the content pipeline, content makers are looking for better ways to get their video into the cloud, regardless of its format or origin. The solution is Bridge Live from AJA, in partnership with Comprimato.
Bridge Live is a dependable and secure solution for transport of Ultra HD and multichannel HD video via the public internet with an assortment of codec options and secure transport protocols. Four 12G-SDI connections, which are backwards-compatible with 6G/3G-SDI, bring video into Bridge Live, where Comprimato software can encode and/or decode and transcode up to four channels of 1080 60p HD simultaneously or one channel of UltraHD 60p. Supported codecs include H.264 (AVC, MPEG-4), H.265 (HEVC) and MPEG-2, with JPEG 2000 (VSF TR01) available as an add-on.
SRT with encryption ensures secure and reliable video streams across networks or the public internet. A range of additional supported transport containers and protocols, include RTMPS, RTP, UDP and MPEG-TS, with adaptive bit rate (ABR) ladder profiles and hand-off for OTT packaging.
You can set and forget Bridge Live and it will continue to work in the background, converting uncompressed video to and from live compressed streams. The low-profile (1RU) box is easily rack-mountable at your facility, in your truck or fly pack. Metadata and closed captioning are supported, as well as ad insertion markers, embedding closed captioning and subtitles, metadata pass-through, MPEG-2 ancillary packet support and electronic program guide on input.
"Live production is booming as streaming becomes standard. More events pivot to a virtual format, and educational institutions implement distance learning. Developing a pipeline to support all the necessary requirements has historically proven costly and often inefficient," explains AJA president, Nick Rashby.
The partnership of Comprimato and AJA brings together dynamic encoding, decoding and transcoding software with battle-tested I/O hardware for a powerful end-to-end production and delivery system. Whether streaming to Twitch or YouTube, or feeding video across your facility or to your facility across the country, Bridge Live is the solution.
OG-DANTE-12GAM
Looking at the AJA/Audinate partnership reminds you of having two friends who you know would be great together, but are missing that one vital connection – there's so much potential, but a small bridge is missing. It's lucky for their relationship, then, that AJA and Audinate have built that bridge, in the form of OG-DANTE-12GAM.
Audinate's Dante audio networking solution forgoes point-to-point analogue and digital connections in favour of networking over a standard IP network to deliver lossless audio with near-zero latency. The OG-DANTE-12GAM card is a Dante audio embedder/disembedder that bridges the gap between SDI and the Dante networking environment.
We've developed the first converter solely dedicated to bridging 12G-SDI with IP-based Dante
With dual 12G-SDI input and output connections, OG-DANTE-12GAM provides 32 channels of audio embedding and 32 channels of disembedding simultaneously supporting 12G/6G/3G-SDI audio embedding to and from a Dante network. Built to openGear specs, up to ten OG-DANTE-12GAM cards can fit into one 2RU openGear frame, which translates into 640 available channels of SDI/Dante audio.
Without OG-DANTE-12GAM, bridging an SDI source into a Dante network would require a lot of gear, a lot of money or both.
"Dante provides a robust system for IP audio transport and is the primary choice for system integrators and a growing number of broadcasters worldwide," said AJA president, Nick Rashby. "We've expanded our openGear card portfolio and developed the first converter solely dedicated to bridging 12G-SDI with IP-based Dante, offering simple installation and production-proven reliability at an affordable price point."
The OG-DANTE-12GAM is aimed a the pro AV and live events market, stadiums, theatres, concerts and other production environments.
This article first featured in the Winter 2020/21 issue of FEED magazine.