Cryfe | Switzerland, 2017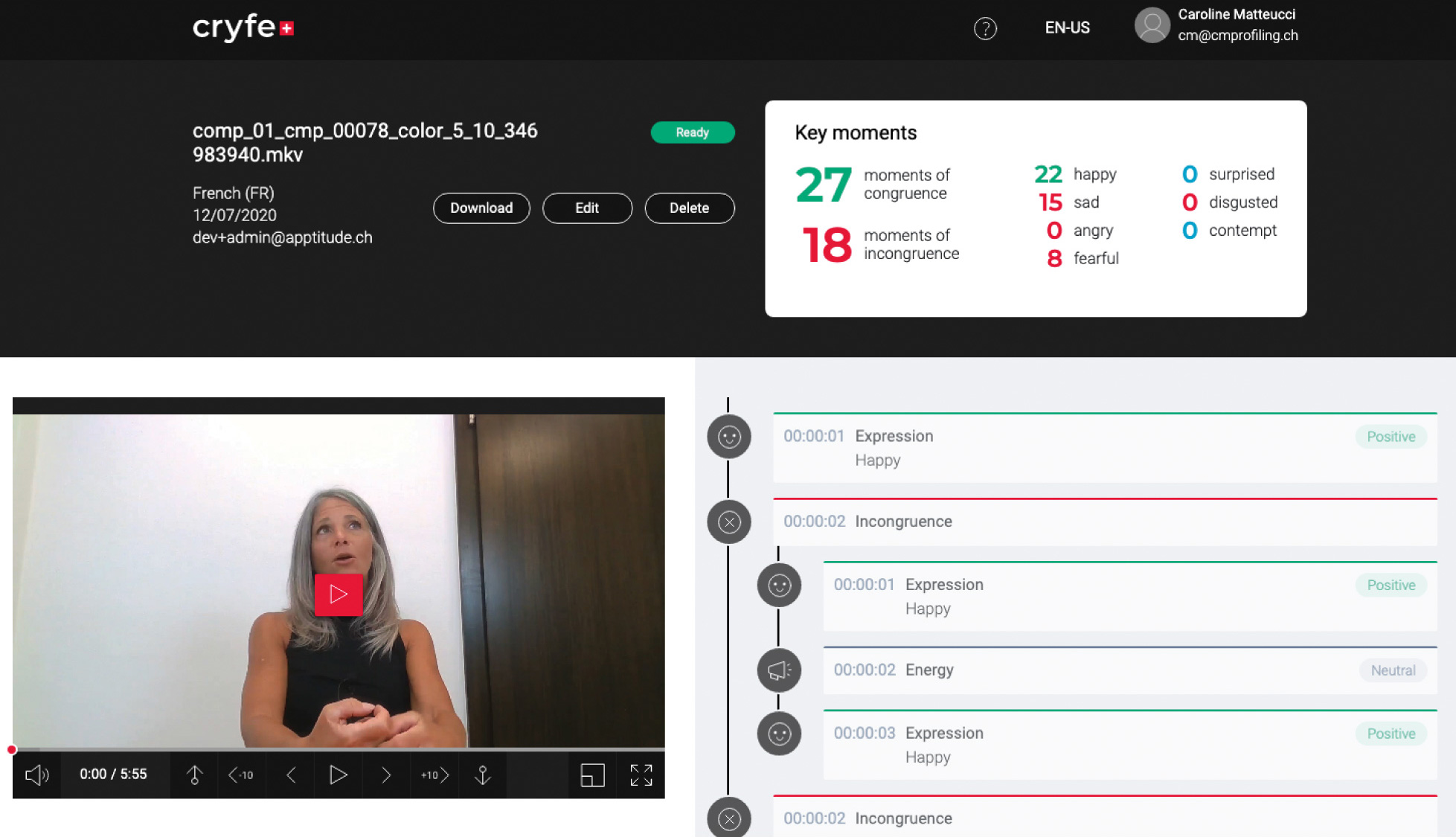 Posted on Apr 22, 2021 by FEED Staff
Cryfe: After a career as a security police inspector, Caroline Matteucci got a master's degree in coaching and was trained in profiling by top FBI instructors
CEO: Caroline Matteucci
Country: Switzerland
Started: 2017
What is the Cryfe origin story?
A strong why: "To put humans in comfort, so that they have access to their full potential and authenticity." 'Cryph' (or 'Kruphos') refers in Greek to something secret, of dubious authenticity. From an early age, I have been asking myself the question, "Why do people play a role? Why can't they be who they are? What if I could meet the other person as they are, not as I would like them to be?"
After a career as a security police inspector, I got a master 's degree in coaching and received training in profiling (a set of behavioural analysis techniques) from top FBI instructors, Dr Paul Eckman and Joe Navarro.
In 2017, I founded CM Profiling, and the training courses quickly gained traction internationally. In three years, more than 500 professionals (HR teams, police units) have been trained in congruence analysis as an aid to recruitment, conflict management and negotiation.
But training programs have a limited duration. Once the training is over, it is natural for a participant not to retain all of the profiling concepts and techniques seen.
In late 2017, I thought about how to support clients over the long term and decided to condense my profiling expertise into software. Cryfe was born.
In March 2018, CM Profiling received support from Innosuisse (Swiss Innovation Agency), who provided CHF 500,000 funding for two partner institutes to develop Cryfe.
Two years of collaboration followed with Swiss technological research centres: IDIAP and HEIA
Fribourg, with software developed with the help of world-class researchers Daniel Gatica-Perez (IDIAP), Jean-Marc Odobez (IDIAP) and Jean Hennebert (HEIA-FR).
Cryfe is a behavioural analysis software for human resources professionals. Powered by artificial intelligence and trained in real interview situations, Cryfe uses profiling techniques to assess people's authenticity. As a result, Cryfe can help overcome the cognitive biases of the recruiter, enabling a fairer and more transparent process.
Examples of cognitive biases that Cryfe helps to highlight and avoid:
Recruitment bias, which makes us hire people who look like us, thus reducing
diversity in teams.
Confirmation bias, i.e. seeing only what we want to see, which can make us miss out on potential talent.
Perception management bias, when our thinking can influence the behaviour of others and lead to misinterpreting the signals emitted by our interlocutor.
Cryfe utilises technique developed by CM Profiling – VIP (Validation Incongruence Practice). VIP is based on the idea that when someone is listening to an interesting, well-constructed and emotionally powerful story, their body communicates unconsciously – and authentically. This technique maximises authenticity recognition and, when incongruities appear, allows the user to review them.
What is Cryfe working on right now?
We are in beta phase until the end of March 2021. Any clients interested in discovering Cryfe, in receiving feedback from an expert in order to better manage, and wishing to provide constructive feedback can make contact with us. At the conclusion of the beta phase, end of March 2021, Cryfe will be commercialised.
What is the next step for the company?
Find customers.
Increase finances through investors allowing them to enter new markets, perform algorithms and move to real time.
What one thing does Cryfe need most right now?
Human understanding and wide use of Cryfe. It is very innovative as it truly puts the human at the centre. People need to understand that this is an example of artificial intelligence at the service of human beings, which helps enable relationships to be authentic. It's time to stop cataloguing the other, and instead meet them as they are, not as we would like them to be!
This article first featured in the Spring 2021 issue of FEED magazine.