True Streaming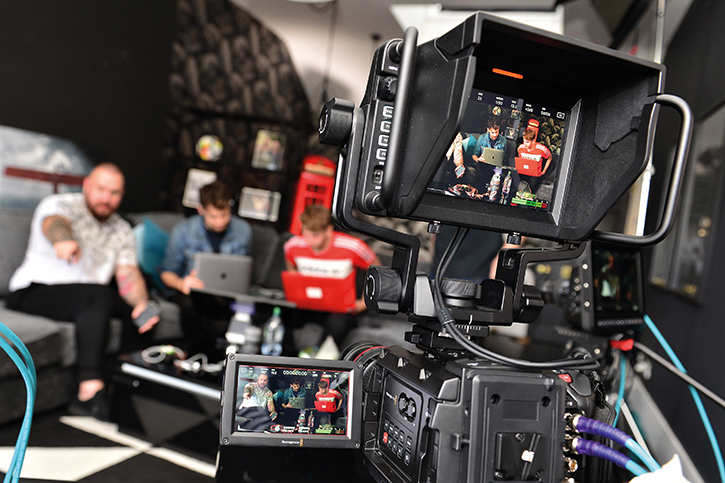 What happens when a massive YouTuber and a massive betting agency join forces?
As we know, some of today's biggest media stars have risen to prominence well outside traditional media outlets. But big brands are taking advantage of their popularity and influence, regardless of what platforms they appear on. Online sports betting giant Coral leapt on such an opportunity when it partnered with Brian Davis, aka The True Geordie, for a new YouTube live streaming show The Kick Off with Coral, which supercharges Davis's live commentary show on Premier League match days.
The True Geordie's football vlog was already one of YouTube's most popular UK sports shows. The Coral partnership has allowed Davis the scope and budget to continue doing what he does best, witty, impassioned football commentary – including a regular podcast with sports blogger Laurence McKenna – while providing him with the team and tech to expand into new areas.
Coral, meanwhile, is able to access the massive True Geordie audience, while boosting Davis's brand even further. Coral brought in creative video content agency and streaming experts Formidable to put together the project.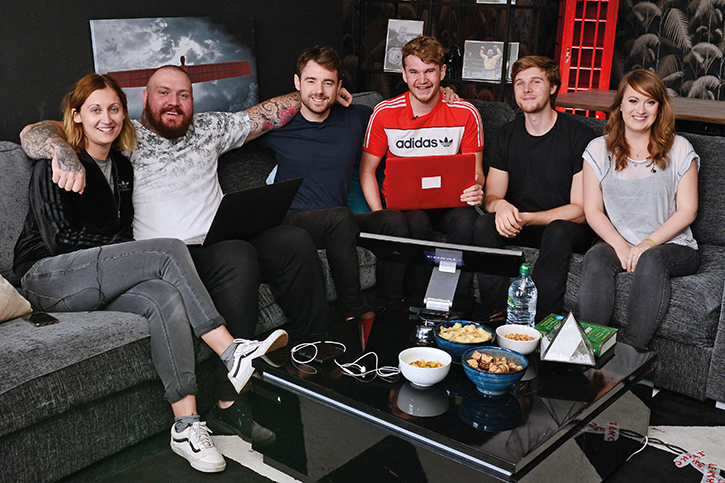 Formidable Effort Due to the limited lead time, the first few episodes were broadcast from a meeting room while the new facility was finalised.
 "Our partnership is a microcosm of where the industry has been going over the last few years."
Formidable was launched in 2014 by creative director Pete Gibbons. Gibbons had been working as a BBC journalist, before moving on to be an early creator of internet-first video content. He was quickly joined by Nik Selman, who became managing director, and the partners quickly acquired a raft of quality clients.
Selman brought with him a background in agency PR, working on the live streaming of major events like the BAFTAS, film premieres and the London 2012 torch relays. "Our partnership is a microcosm of where the industry has been going over the last few years," says Selman. "It's Pete's video content creation background and my PR background coming together. The two have been getting closer and closer together."
The casual, hanging-out-with-your-mates format of The Kick Off with Coral belies the production tech supporting it all. Coral was looking to increase its presence in the weekly Premier League cycle and wanted to work closely with an influencer to boost that presence. True Geordie Brian Davis and Laurence McKenna won the pitch. McKenna already had an ongoing relationship with Formidable and came to them with the brief.
There was virtually no lead time before the show began and, requiring a robust internet connection to produce the show properly, the first episodes were done in the meeting room at Formidable's office. "The show has looked great from the outset, but it's been evolving," says Gibbons. "The support of Blackmagic has been invaluable. We got in touch with them with a month to go and they helped us spec out the whole studio and build something bespoke for our creative plans. They helped us week on week really, pulling together better and better equipment."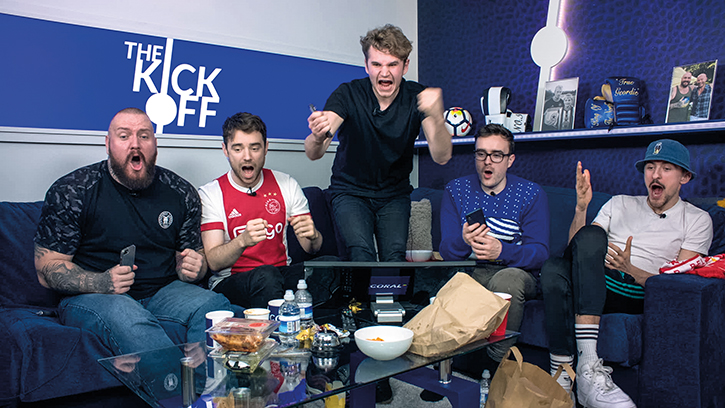 Kicking Off The team have been able to develop their content offering thanks to the technology that has been introduced
"The support of Blackmagic has been invaluable… they helped us spec out the whole studio and build something bespoke for our creative plans."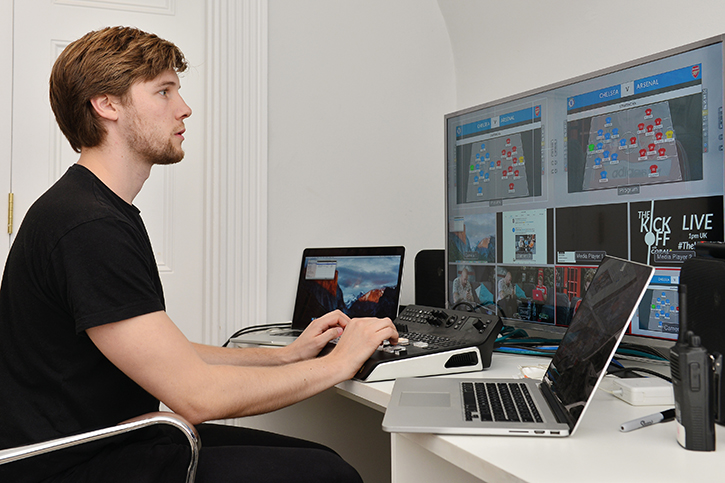 The show has moved on to larger studio premises in Hackney, which also includes a podcast studio. The style of presentation has evolved with participants around a table rather than a Gogglebox-style sofa format. The show currently uses four cameras – three Blackmagic URSA studio cameras and one URSA Micro. The studio features a raft of new kit from Blackmagic Design, including the ATEM Television Studio Pro HD switcher and the Teranex AV converter.
The show also uses RCS LaunchPad touchscreen for its graphics, which allows Davis and McKenna to creatively visualise game play and stats. It also has the effect of 'gamifying' the commentary, giving True Geordie commentary a bit of eSports flavour – always popular on a YouTube channel. "In the beginning we were able to do way more than we wanted, but because of the tech we've been using the show has developed creatively." But are there challenges in working with YouTubers and influencers who may not be accustomed to the schedules, pressures and compromises of higher end production?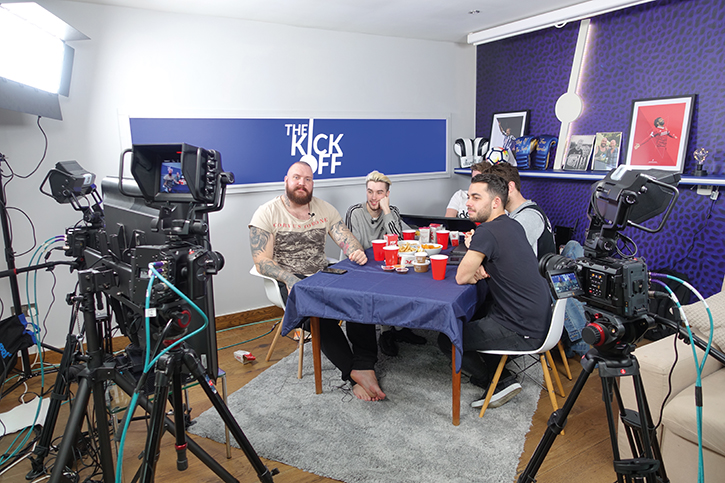 "YouTubers are unique compared to what's been happening previously in the industry because the talent is also the publisher," says Selman. "That role is combined. They own the media space. When a brand partners with them, the same person is providing both the media space on which this conversation happens as well as the presenter."
"In the main, YouTubers have been doing it their own way, low-resourced and don't have many people to answer to," says Gibbons. "This is the first big brand deal that Brian Davis has done, so we worked closely with him to help him understand what the do's and don't's are when working with these brands, but we also helped represent his wants with the client and tried to make sure the relationship is always positive."
Tech Support Although the format of the show is casual, behind the scenes a raft of production technology is hard at work.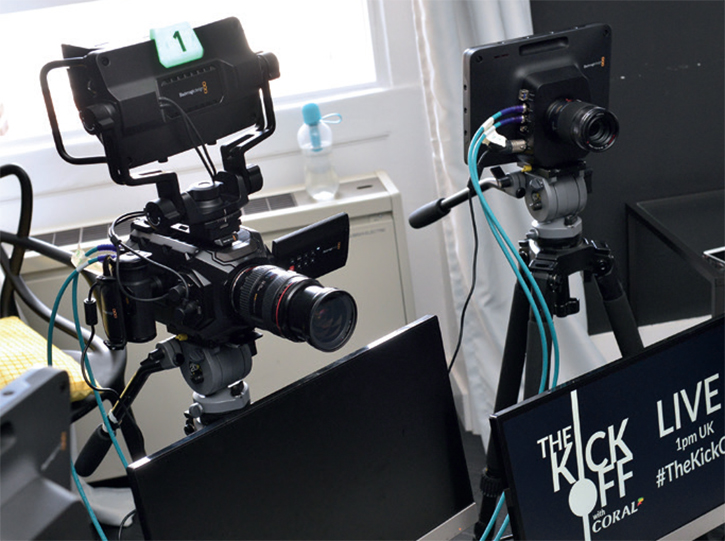 The synergies between big brands and creative entrepreneurs will only continue to grow. Brands have material resources that creative start-ups may lack, but these new entrepreneurs often have something even more valuable – a creative vision and a big audience of true fans. 
This article originally appeared in the April 2018 Issue of FEED magazine.