Panasonic: The world is your showroom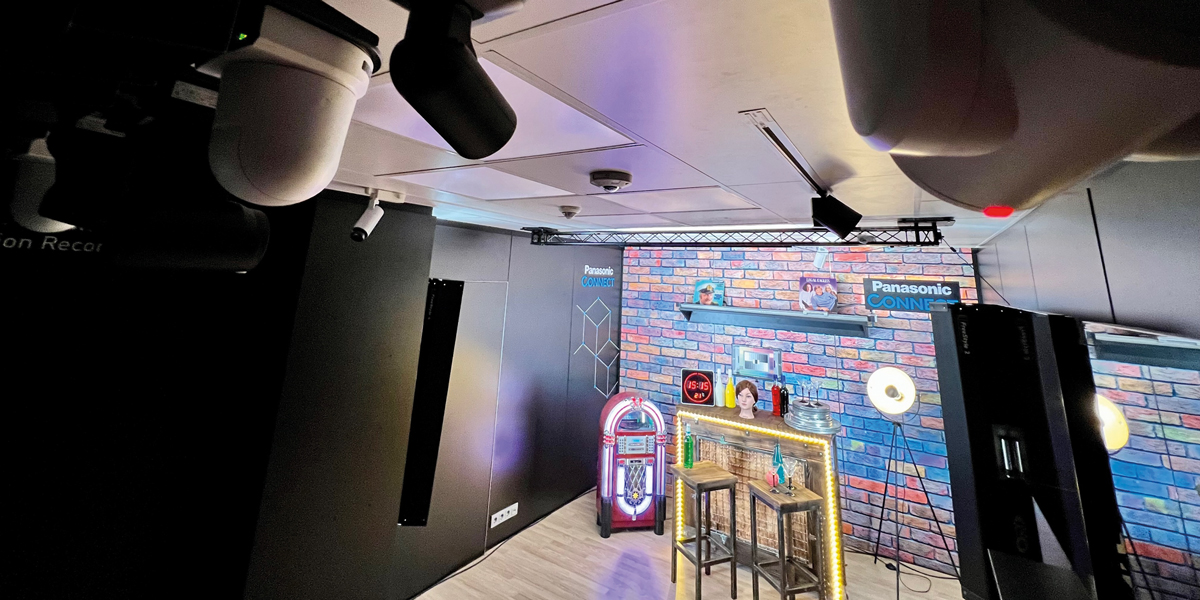 Posted on Feb 20, 2023 by FEED Staff
Sponsored editorial
New digital portals allow customers to engage with Panasonic products – anytime, anywhere
As Covid-19 restrictions were lifted in 2022, many in the media industry returned to in-person trade shows, to learn about the latest trends and get a demo of the newest gear. But two years of strict lockdowns gave people time to rethink their business networking and product research. 
Remote working became the norm and professionals discovered they could do a lot from their laptops – maybe even more than they could when travelling to and fro.
"Over the last few years, things changed a lot," explains Anna Arkatova, product marketing manager at Panasonic. "We have looked at the trends and people continue to work remotely – they're not as willing to travel every week to some new event, exhibition or customer visit."
Panasonic had already started thinking about how to get people in front of its products in alternative ways, using a digital platform to bring the brand to the customer – wherever they are. The company also wanted to develop something accessible 24/7, that could be reached according to the customer's schedule. Demand for PTZ cameras was booming during the height of lockdowns and the team began developing an idea for giving customers access to Panasonic gear without having to travel. The result was the Panasonic PTZ Virtual Demo Room and Panasonic AV Digital World.
The PTZ Virtual Demo Room is a web-based portal that allows everyone, from the tech-curious to the regular PTZ customer, to test drive all of Panasonic's latest PTZ models remotely. The platform allows users to remotely control a whole array of PTZ cameras in a real, bricks-and-mortar demo room at Panasonic's Wiesbaden office and view the results on-screen. 
After pre-booking a session on the site, users can then test the functionalities of PTZs in a real studio setting – including zoom, tracking, sensitivity or integration with different software. Take a spin on the platform yourself, or have a Panasonic expert directly on hand to field questions. The virtual studio can also be customised with speciality set dressing or lighting for customers with particular needs or technical questions. 
"Our Virtual Demo Room gives customers the opportunity to explore Panasonic's comprehensive PTZ line-up instantly," says Justus Künanz, sales engineer at Panasonic Connect Europe. "With remote-controlled lighting fixtures, performance between cameras can easily be compared."
Panasonic PTZ specialist Mads Bolding adds: "Guided VDR tours have got great feedback. Especially for the ability to present our different software, do training sessions and check how wide-angle each model is."
Adjacent to the Virtual Demo Room, Panasonic has designed AV Digital World, which Arkatova describes as 'a trade show booth in your pocket'.
Accessed through a browser on any screen, the AV Digital World platform offers a navigable virtual space through which users can explore Panasonic's glass-to-glass solutions across four different verticals – corporate/education, broadcast, live events and esports. In the virtual room, there are representations of technologies, including cameras, PTZs, robotics, controllers and projectors – all arrayed in the virtual room as they would be in real life. Furthermore, each is accompanied by a clickable tab to discover more information about the tech.
"This can be deployed as a complete replacement for a big exhibition," continues Arkatova, "but it's also something that can facilitate discovery and will help change the way we do things at all of the biggest trade shows."
Arkatova thinks that face-to-face conversations are an essential element of the customer journey – when someone steps into a physical space with real people, opportunities for discovery happen that are not yet feasible in a fully digital space. However, she notes that the industry is going to become more selective in how it approaches business travel and trade events.
"We see the trend going toward more local and hybrid events – something smaller that doesn't involve setting up huge booths, and also leaves the opportunity for personal interaction with a local Panasonic representative."
The AV Digital World platform will be a key tool for representatives to explain the company's solutions in an easy, compact form. There's quite a difference between taking a customer to four different custom-built demo rooms and showing them around each with a single mouse click.
"At in-person events, we can use the AV Digital World to guide people through the different tools, how they can be used in each set-up and what directions our solutions are taking."
Desire for professional-level broadcast products, including PTZs, is expanding across sectors. The PTZ Virtual Demo Room and AV Digital World were also built with sustainability in mind. 
"We are eliminating travelling from both our side and the customer side," says Arkatova. "But we don't want to cut off any touchpoints. In fact, it's the other way around. We want to give more touchpoints to our customers. If you want to talk to a product expert at any point, you're able to get in touch."
The next steps in Panasonic's new customer interaction model will incorporate more and better ways to use Panasonic products – whether through its digital platforms or more intimate Panasonic-hosted events.
"Tools are not there to replace expos, but to help us focus on smaller, local events, which seem to be more popular with our customers right now." 
Learn more at panasonic.com
This article first featured in the winter 2022 issue of FEED magazine.