Prime Moover: BT Sport and ChyronHego's Prime platform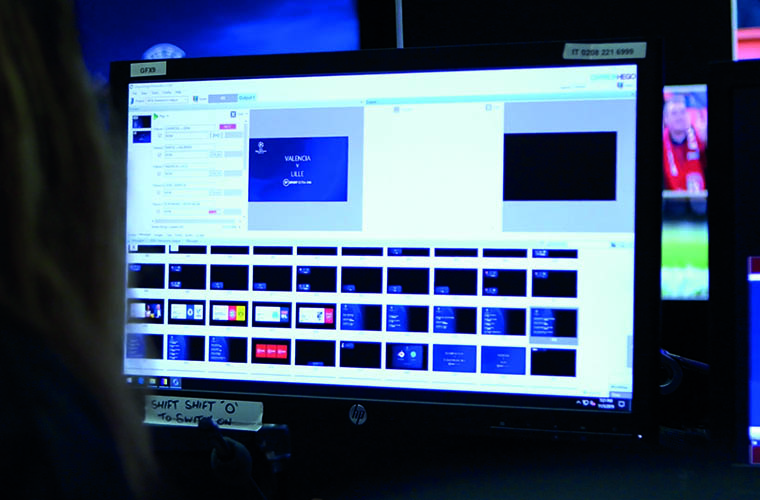 Posted on Mar 4, 2020 by FEED Staff
Sponsored editorial
When BT Sport Ultimate launched lest year, the sportscaster's graphics partner Moov adopted ChyronHego's Prime platform to handle a plethora of formats and set the stage for future innovations
Since 2013, Moov has had a close partnership with BT Sport, sharing an office in London's Queen Elizabeth Olympic Park and effectively acting as the pay TV broadcaster's in-house graphics department. For output such as the channel's Champion League Goals show and BT Sports Score, this close relationship is crucial for success as both programmes are heavily driven by data with live editorial relevance.
Beyond its studio work, the sports and events graphics provider has supported BT Sport with many world firsts – including the launch of BT's first live 4K channel in 2015 and two years later when BT achieved first HDR Dolby Atomos broadcast at the Champions League final in Cardiff.
When the broadcaster decided to take the plunge last year and launch its first HDR-dedicated channel, BT Sport Ultimate, it was down to Moov to ensure that the graphics were up to the new, visually stunning HDR format.
Moov, a long-time ChyronHego customer, was using the vendor's LyricX graphics creation and layout solution on UHD channel BT Sport. However, moving into the HDR realm required a new, flexible platform that supported UHD, 4K and HDR workflows. According to Moov co-founder and MD Duncan Foot, there were other graphics systems in the running, but he concluded that ChyronHego's Prime platform offered the best workflow.
Each time we've been set a challenge by BT Sport, Chyron has been there to help
The system handles tasks such as production clip playing and video wall graphics in an HDR environment, but crucially, Prime's ability to allow users to customise and build it out for future users to customise and build it out for future use persuaded Foot that this was the right option.
"What Prime offered over other solutions was this potential for us to grow and innovate on the platform and to move into other areas – stadium screens, studio screens, AR and touchscreens," says Foot. "In the past we may have had to use three of four different platforms for one show. This system was able to give us one future platform. From a behind-the-scenes perspectives that means one set of skills for a lot of output."
Moov ordered 23 new ChyronHego Prime graphics systems to support BT's output, which was followed by an intense three-month training period last March.
A rebrand of BT Sport, launched at the beginning the football season last August, meant that the ability to transition operationally from Lyric to Prime was key to getting them up to speed in the short timeframe.
"ChyronHego's pre-sales and the training team were of utmost importance to us at that stage – a handful of our superusers received training and then they in turn trained others in-house," says Foot.
The upgrade meant that some graphics needed to be rebuilt in Prime, including the graphics for the Champions League and Europa League coverage, which took considerable time.
On balance, the transition from Lyric to Prime has been a fairly seamless one and Foot reports "zero failure" with the hardware so far. "The interface isn't dissimilar to Lyric," he adds. "The terminology and the functionality are similar – but Prime comes with the added advantage of allowing us to do things within the UI and to add intelligence natively." Within three months all the core staff had received training and, as the season has progressed, they now have 25 fully trained operators working to a very high standard.
"Each time we've been set a challenge by BT Sport, Chyron has been there to help – whether it be a new format or a new way of working or new processes."
Moov also plans to use the Prime platform on other new projects that come its way, including the streaming of the Royal Opera House's live events into cinemas. In fact, the Prime platform will be making the journey to Tokyo this year with its client BBC Sport as part of its Olympic coverage, with some exciting innovations in the pipeline.
This article first appeared in the March 2020 issue of FEED magazine.