Red Bull raps with remote production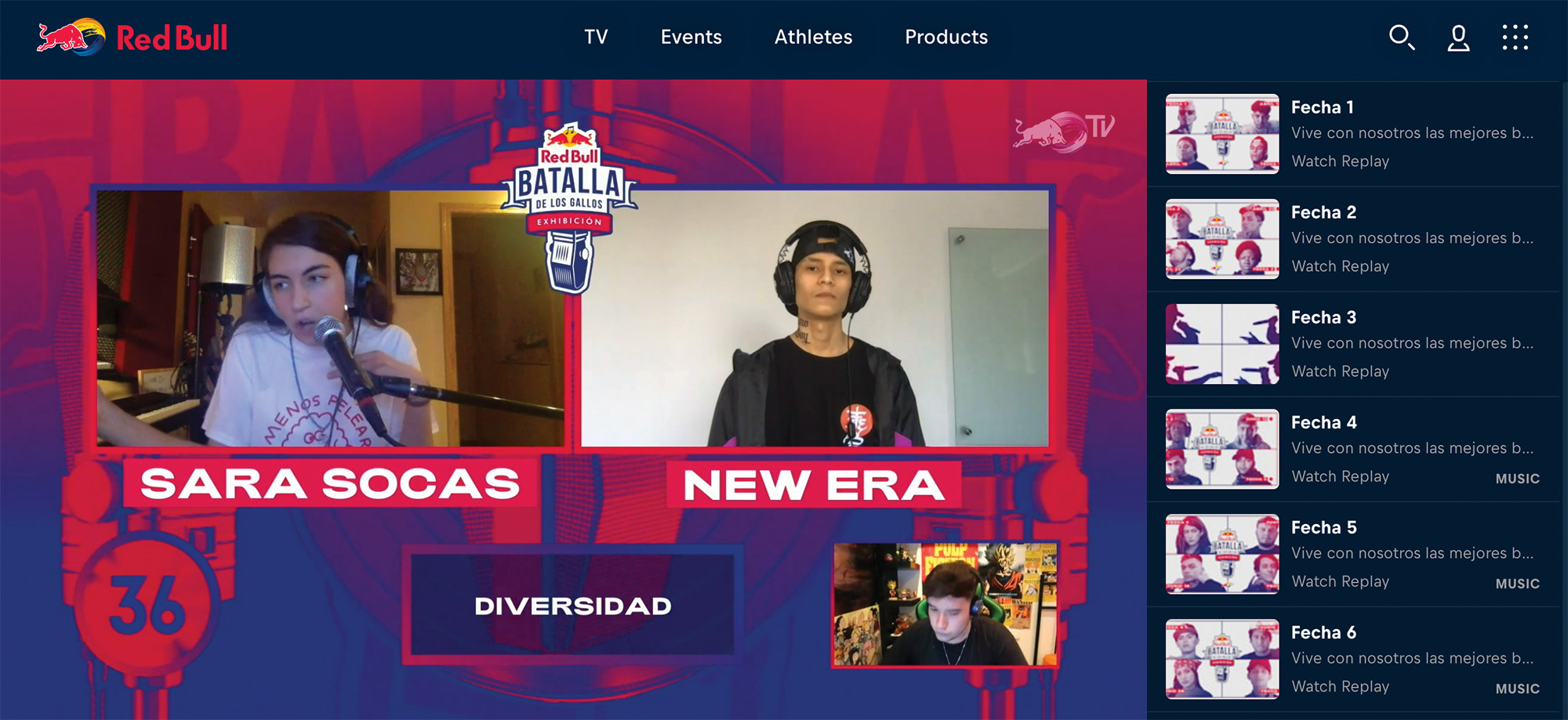 Posted on Mar 10, 2021 by FEED Staff
Sponsored editorial
Spanish livestreaming company leverage Vizrt's software only live production system mixer to produce high-quality broadcast during lockdown
There's no doubt that Spain's Covid-19 lockdown experience significantly impacted its broadcast and entertainment industries – it also proved to be an accelerant for a new remote production process being explored by Madrid's Square One Media, a full-service livestreaming company.
"During 2019, Vizrt released the beta version of Viz Vectar Plus, a 100% software-based vision mixer with additional capabilities," says Square One's founding partner Sergio Ruiz. "We recognised the potential of a virtualised production environment with Vectar as the core. During January 2020, we got the first fully functional proof of concept ready, including the minimum glue to build a simple workflow, aimed mainly at online productions. Then, in March, the health crisis hit Spain."
With the lockdown in full force, Spanish national public broadcaster TVE tasked Square One with providing a virtual production environment on very short notice.
"The show was Todos en casa [Everyone at home], a prime time show that demonstrated how regular people were dealing with the quarantine," says Ruiz. "The anchor was hosting the show from his home, with a minimal set-up. There was no technician. He was receiving remote support to set up cameras, microphones and lighting, with live connections to regular people who had become famous during Covid. One guy, for example, was singing every day with his grandmother. It was a portrait of Spanish society.
"We only had 72 hours to set up the virtualised environment on this show with Viz Vectar Plus," he continues. "We had four cameras on the host, set up in the cloud, so we were getting live feeds from his home, as well as up to 20 external connections [from the public], through either Skype, Microsoft Teams or Zoom, plus plenty of DDRs [for playing back pre-recorded video clips] plus graphics. It was a regular TV production. But in fact, everybody in the group was operating from home, and it was all cloud and software-based equipment."
We only had 72 hours to set up the virtualised environment on this show
Complete production in the cloud
Now shipping, Viz Vectar Plus offers a range of innovative software capabilities including NDI®-based audio application interconnectivity, multiple version programme output and remote operation. It can also integrate multiple video conference call applications as live sources without worrying about connectivity. It supports a combination of virtual and hardware sources, such as PTZ cameras connected over NDI, as well as software and hardware control panels operating across various networks. Since it can be installed on-premises using a standard PC with the necessary performance requirements, it's also available as a virtualised package that runs in private or public cloud environments that support GPU processing.
As the world of live production is moving by necessity to a more remote model, this IP-based system is emerging at the perfect time. Ruiz describes Square One as a service company focused on advanced IP solutions. "We had some remote production experience with equipment from manufacturers like Aviwest or LiveView, and they were good, but this is not just a different level, it's a different game," he enthuses. "The Vizrt model is so powerful and flexible that we even manage to provide real-time cloud editing, advanced sound management, GFX integration, ultra-low latency for monitoring clients and a cool bunch of smaller features to meet customers needs. You can deploy an environment to meet the production's requirements in an hour."
Red Bull
The versatility of the Viz Vectar Plus system was further apparent when towards the end of March, long-time client Red Bull asked Square One for help with a project based on a spin-off of its very successful Batalla de los Gallos franchise. "It's an international freestyle rap contest," explains Ruiz. "Talent and technicians from all around the world needed to be 'delocalised'. Contributions were produced at home with PCs from contestants, hosts and judges, while all the technical and editorial crew interacted though different instances deployed in the same Virtual Private Cloud on AWS."
Each of the Red Bull Batalla de los Gallos Exhibición 2020 episodes involved one host, with eight contenders and three judges. "All of them were interacting," says Ruiz. "Before each show, we had a couple of days of testing with the guys for connections, for computer and for audio. There were big [technical quality] differences between contestants, depending on the gear they had at home and we tried to make it more similar by sending them all the same USB microphones."
While the video set-up was relatively simple, the audio was much more complex.
"In our TVE production, we used the virtual audio software panel in Vectar, but for this experience we took the audio out to a digital audio workstation, so the audio technician was working on a separate instance on the same virtual network," says Ruiz. "We had to move to a more complex set-up to have more control over the mix-minus and synchronisation of external music. That was the most complex part of the production."
You'd also think latency might be an issue, considering the amount of distributed sources.
"We had to plan it carefully, and have a really detailed idea of what was happening on each end, but once we had that charted, we were fine," Ruiz says. "With Viz Vectar Plus you can really accurately adjust delays on each source. It's really powerful. Also, since for this project we had all the discrete channels and somewhere else to deal with them, we could bring a mix down to the Viz Vectar Plus."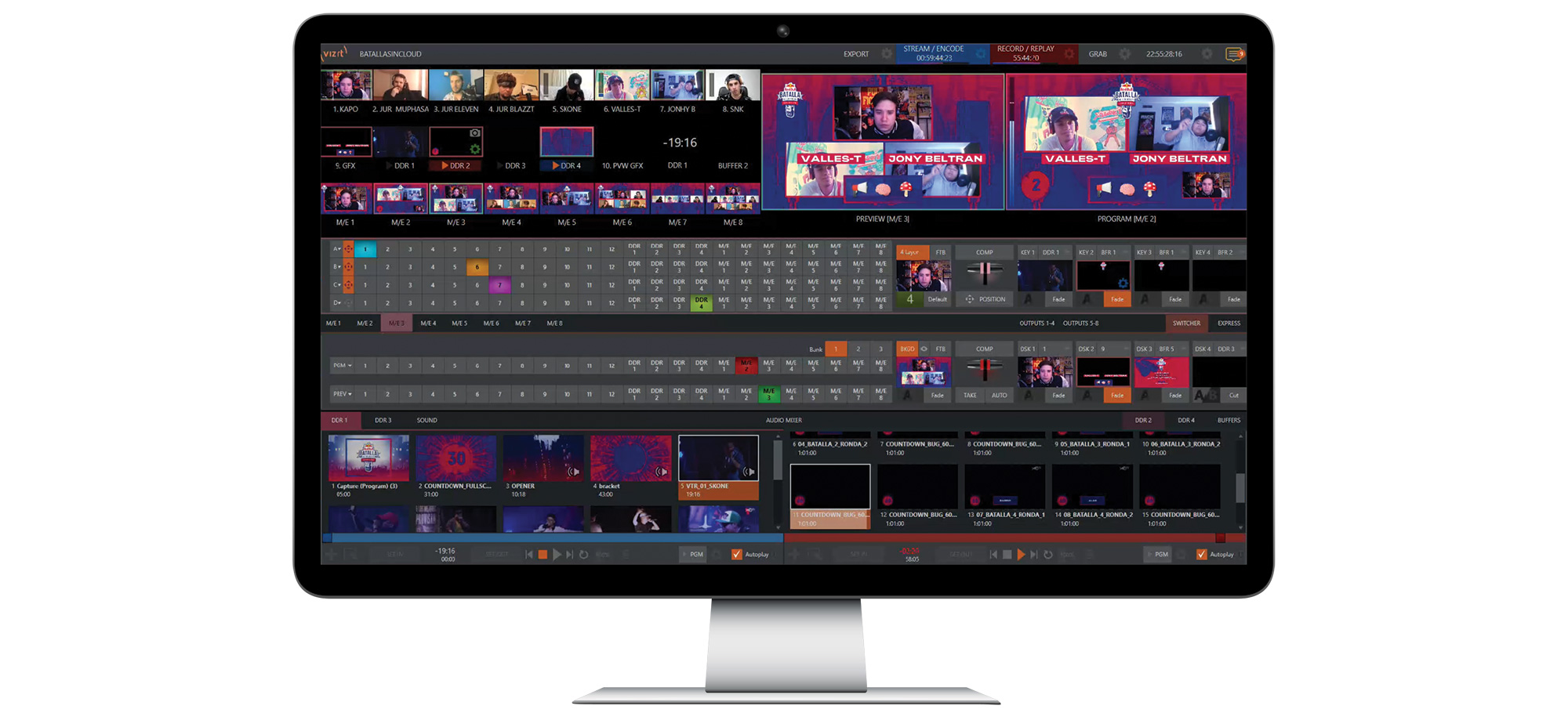 Vision on
It's hard to picture a live production system without access to graphics, and the virtualised version present in Viz Vectar Plus is no different.
"Viz Vectar Plus offers simple pre-existing graphics, but if you want really cool 3D live animated graphics, then you need something like Viz Engine for example, and you just bring the graphics through NDI. NDI supports alpha channels, so you just grab the graphic as a source and that's it," says Ruiz. "If I don't have a Viz Engine available, I can just call on [a freelance operator] in France and bring the graphics through SRT with 200ms latency.
Another tool for the vision mixer is the composition preset feature, which lets you animate layers and overlay position, rotate and other attributes, as well as add animated backgrounds.
"With the Red Bull battles, we had around 25 different preset compositions," says Ruiz."So the vision mixer just had to activate them with a macro. It's complex to set up, but once you have the macro, it's very simple to operate."
Ruiz adds that the graphics integration during the Red Bull series, even considering the addition of home computer colour to the mix, was "seamless". As for playout, this too "went really smoothly".
"One cool thing with Viz Vectar Plus is that it supports SRT," he adds, referring to the open source video transport protocol. "So it's pretty simple to send it to customers who are really demanding in terms of encoding. For example, for somebody asking for multiple deliveries, to Twitch, Periscope, YouTube and private CDN, at the same time. In this case, we sent a really good-quality SRT to a server, then performed all the relays from there."
One cool thing with Viz Vevtar Plus is that is supports SRT
Content focus
To date, since that first TVE quarantine show, Square One has carried out 118 remote productions with Viz Vectar Plus.
"I think NDI is key," he says. "But Viz Vectar Plus is a really balanced aggregation of useful tools. It's rare that an operator will request a feature and we find it's not there. For example, Viz Vectar Plus manages DDRs really well in a comfortable way
for the operator, macro automation is there, downstream key [DSK] management is there. And all the functionality is focused on content production. It was an absolute game changer for us."
This article first featured in the Winter 2020/21 issue of FEED magazine.